Oil hits 10-month peak, sugar hits all-time high
The price of oil raced to a 10-month peak in London this week and metals futures rallied strongly as the US dollar retreated on positive economic data, traders said.
Sugar meanwhile struck an all-time high in London, aided by a weaker dollar amid more positive signs of economic recovery and the commodity's weak supply situation.
OIL: Brent North Sea crude for delivery in September hit US$76 a barrel on Thursday — the highest level since October. New York crude reached a five-week high of US$72.42 the same day.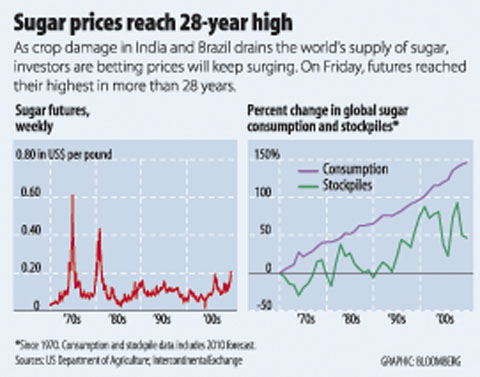 On Friday official data showed the US unemployment rate fell unexpectedly to 9.4 percent last month as job losses in the month narrowed to 247,000.
By Friday on London's InterContinental Exchange (ICE), Brent North Sea crude for delivery in September jumped to US$74.33 a barrel from US$69.52 a week earlier.
On the New York Mercantile Exchange (NYMEX), light sweet crude for September rallied to US$71.43 a barrel from US$66.83 one week earlier.
PRECIOUS METALS: Prices rose across the board, reaching multi-month peaks.
On Friday, a group of 19 European central banks announced they would cap gold sales at 2,000 tonnes over the next five years and stressed the importance of gold to the international monetary system.
By late Friday on the London Bullion Market, gold rose to US$956 an ounce from US$939 a week earlier.
Silver gained to US$14.65 an ounce from US$13.63.
On the London Platinum and Palladium Market, platinum grew to US$1,260 an ounce at the late fixing on Friday from US$1,189.
Palladium advanced to US$271 an ounce from US$256.
SUGAR: The price of sugar reached a record high in London trading after jumping 25 percent in three weeks.
White sugar for delivery in October reached £537.30 a tonne — the highest level since the commodity was first traded under its current form in 1983.
In New York, unrefined sugar for October hit a 28-year high of US$0.2068 a pound.
By Friday on LIFFE, London's futures exchange, the price of a tonne of white sugar for delivery in October grew to £493 from £475.70 a week earlier.
On the New York Board of Trade, the price of unrefined sugar for October climbed to US$0.1876 a pound from US$0.1834.
Comments will be moderated. Keep comments relevant to the article. Remarks containing abusive and obscene language, personal attacks of any kind or promotion will be removed and the user banned. Final decision will be at the discretion of the Taipei Times.