Apple quarterly profit defies forecasts
BEATING 'WHISPER' NUMBERS: Strong sales of Macintosh computers and iPhones brought the company a net profit of US$1.23 billion, or US$1.35 in earnings per share
Apple Inc's quarterly profit blew past Wall Street forecasts thanks to strong sales of Macs and iPhones and higher-than-expected gross margins, boosting its shares 4 percent on Tuesday.
The company continued to defy the global recession with a solid 13 percent jump in fiscal third-quarter net profit. It sold more than seven times as many iPhones — 5.2 million units of its latest signature device — as the year-ago period.
"The numbers are great. Their gross profits continue to surprise people and there is a return to product momentum ... a return to growth in the Mac business," said Andy Hargreaves, an analyst at Pacific Crest Securities. "And then the iPhone is doing ­tremendously well and that is a potent combination."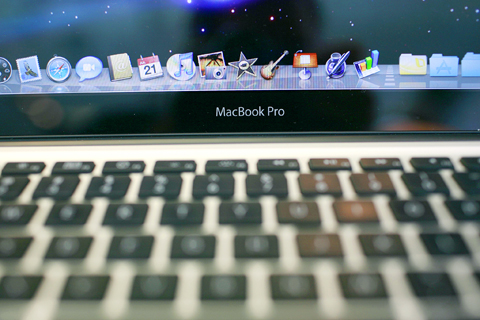 The keyboard and applications on an Apple MacBook Pro are pictured at the Apple retail store in San Francisco, California, on Tuesday. Apple Inc posted a quarterly profit that blew past Wall Street forecasts.
PHOTO: REUTERS
Apple reported a net profit of US$1.23 billion, or US$1.35 a share, for its fiscal third quarter ended June 27, up from US$1.07 billion, or US$1.19 a share, in the year-ago period.
Earnings per share beat by far the average Wall Street forecast of US$1.18 according to Reuters Estimates, and topped even the most bullish "whisper" numbers of US$1.30 to US$1.34.
Revenue rose 12 percent to US$8.3 billion in the June quarter, versus analysts' average estimate of US$8.2 billion.
Sales of Macs and iPhones both beat analysts' expectations, helped by product refreshes and lower prices, while iPod shipments were toward the low end of forecasts.
Apple said it sold 2.6 million Macs, up 4 percent from a year ago, and 5.2 million iPhones in the June quarter, during which the company launched its third-­generation iPhone 3GS and cut the price on the second-generation model to US$99.
Although the smartphone segment continues to grow more crowded with competitors, chief operating officer Tim Cook said on a conference call the company is "years ahead of other people" in its competitive position.
The install base for the iPhone and the iPod Touch — which share operating systems — is now 45 million, Apple said.
"The iPhone is the biggest driver right now, because the profitability is really high," said Frost & Sullivan analyst Ronald Gruia. "It's been an absolute success."
Yet there had been some concern about margin pressure heading into the results, given the product price cuts and the trend of higher component costs.
Apple posted a gross margin of 36.3 percent, above the 34 percent some analysts predicted. That compared with 36.4 percent in the last quarter and 34.8 percent a year ago. The company saw margins at 34 percent in the September quarter.
Apple said component costs rose, but not as much as expected and it spent less than it planned in several areas.
The company issued a typically conservative outlook for the current quarter, forecasting earnings of US$1.18 to US$1.23 a share on revenue of US$8.7 billion to US$8.9 billion.
Comments will be moderated. Keep comments relevant to the article. Remarks containing abusive and obscene language, personal attacks of any kind or promotion will be removed and the user banned. Final decision will be at the discretion of the Taipei Times.