California to vote on cigarette tax plan
ASH CASH Last year the state's electorate rejected a ballot measure calling for a tax increase on cigarettes after tobacco firms launched a US$80 million campaign against it
California Governor Arnold Schwarzenegger will ask voters to increase cigarette taxes to expand healthcare to the uninsured, the first increase he has supported since taking office on a vow to oppose new taxes.
The increase is part of an agreement Schwarzenegger struck with Assembly Democrats, his press secretary Aaron McLear said. The money from the tax would replace Schwarzenegger's proposal to lease the state's lottery to finance universal healthcare, something Democrats opposed.
Schwarzenegger and the Democrats had been at odds over key portions of his proposal to insure almost 7 million Californians who cannot afford coverage. He vetoed their version of universal healthcare in September, saying businesses shouldered too much of the cost. They had already agreed to put any final agreement before voters in order to bypass Republican lawmakers, who can block the passage because taxes need a two-thirds majority vote.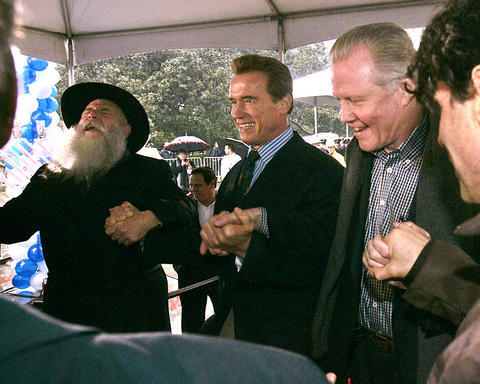 California Governor Arnold Schwarzenegger, center, holds hands with Rabbi Boruch Shlomo Cunin, left, and actor Jon Voight as they dance during the 14th annual Chanukah Celebration held at the Capitol in Sacramento on Dec. 6. The governor is seeking voter support to raise taxes on cigarettes to help pay healthcare costs.
PHOTO: AP
"We've agreed to include the tobacco tax as part of the financing mechanism that will go before voters," McLear said in an e-mail. "We're still negotiating the size and terms."
Last month, Democrats said they wanted to raise tax on cigarettes to US$2.87 from US$0.87 per pack. Schwarzenegger has rejected all calls for tax increases since he took office four years ago.
Last year California voters rejected a ballot measure calling for a US$2.60 per pack tax increase on cigarettes after tobacco companies such as Altria Group Inc, parent of Philip Morris and the biggest cigarette maker, and Reynolds American Inc, parent of the second-largest US cigarette producer, financed a US$80 million campaign against the measure.
Under the agreement, lawmakers would divorce the funding mechanisms of a universal healthcare program from the policy portions. Lawmakers would need to pass a bill putting the funding portion, such as the tax increase, on the ballot. They would also need to approve the policy portions in a separate bill.
The new plan would require businesses -- depending upon their size -- to spend between 1 percent and 6.5 percent of their payroll costs on healthcare or pay the same amount into a state insurance fund. Schwarzenegger had initially said businesses should not pay more than 4 percent.
The Assembly, controlled by the Democrats, has scheduled a vote on the plan as early as today. In the Senate, also controlled by the Democrats, President Pro Tem Don Perata has said he would not bring the measure up for a vote until after Schwarzenegger details his budget for the fiscal year that starts July. 1.
Schwarzenegger said on Friday that the state's budget deficit had swelled to as much as US$14 billion and that he would declare a fiscal emergency next month in order to make midyear budget corrections.
Comments will be moderated. Keep comments relevant to the article. Remarks containing abusive and obscene language, personal attacks of any kind or promotion will be removed and the user banned. Final decision will be at the discretion of the Taipei Times.