'Espionage' common practice at car shows
Japanese automakers were aiming for maximum publicity as the covers came off their sleek new cars at the Tokyo Motor Show last week, accompanied by popping champagne corks and glamorous models.
But some cars were drawing slightly too much attention for automakers' comfort as the more serious business of spying on rivals' vehicles got underway discreetly, along with efforts to protect products from enemy eyes.
Many foreign automakers and parts suppliers are eager to get every detail of the industry leaders' new vehicles, which they hope to use for their own products, motor industry watchers said.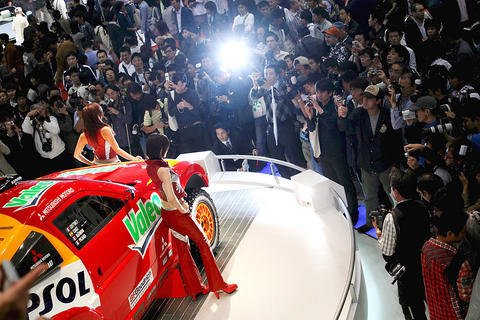 Visitors take pictures of models in front of a sports car at the Tokyo Motor Show in Chiba Province, Japan, on Saturday.
PHOTO: EPA
Although no Chinese automakers and parts suppliers had stands at the motor show, many were believed to have sent people to the event to take notes and pictures of the latest designs, along with others from elsewhere in Asia, they said.
"It's a common practice," Credit Suisse Securities auto analyst Koji Endo said.
"Japanese automakers are also doing that in Frankfurt or in America," he said.
The show also provides the chance to get close to recently launched models.
In one Toyota car sold only in the Japanese market that was on display at the Tokyo Motor Show, two men were seen occupying the front seats and taking numerous close-up pictures of the dashboard and interior.
Elsewhere, a man was spotted taking close-up photos of every part of another model, from the front of the car to the bottom edge of a door, before squatting down on the floor to snap shots of the car's belly.
At the Nissan stand, a trio of men were scrutinizing switches around the steering wheel of a luxury sedan that made its Japan premiere.
"Everybody knows spy operations are going on," said a veteran motor journalist who has been following the industry for more than a dozen years.
Carmakers buy rivals' products to dissemble, but many are still eager to look at the underside of the vehicles on display, he said.
"The layout of suspension, pipes and other `entrails' gives you important information. You can tell if a concept car is just a paper tiger or close to reality by examining its belly," he said.
Some manufacturers have strategies to keep the "spies" away.
"Automakers have their `staff for product explanation' right next to vehicles that they want to protect and make sure they keep an eye out all the time," the journalist said, on condition of anonymity.
Important vehicles are displayed at the most conspicuous but hard-to-touch places, often on glitzy stages or elevated areas.
"It's the same at normal stores. Easy-to-steal gums and candies are near the cashier," he said.
Comments will be moderated. Keep comments relevant to the article. Remarks containing abusive and obscene language, personal attacks of any kind or promotion will be removed and the user banned. Final decision will be at the discretion of the Taipei Times.