Chinese portals duel over Games
TOUGH MARKET Sohu.com has signed a deal that it says gives it exclusive rights to host advertising by Olympic sponsors, a claim that its rivals are opposing
Competition in China's booming Internet sector has turned nasty ahead of the Beijing Olympics, with Sohu.com (搜狐) upsetting its rivals through a lucrative sponsorship deal that is now being challenged.
The Chinese portal paid a reported US$30 million in 2005 for the rights to set up the Games Web site for the Beijing Olympics organizing committee and to use the logo of the event -- the signature silhouette of a dancing man.
However, it has since put the squeeze on rivals by claiming the deal included exclusive rights to host all the advertising by Beijing Games sponsors bearing the official logo.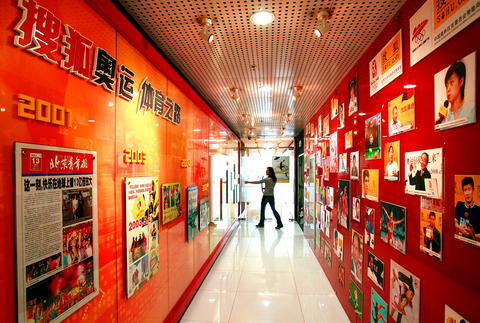 A Sohu.com employee walks past a Sohu.com 2008 Olympic Games display in Beijing yesterday. Sohu.com's claim of exclusive rights to host all ads by Beijing Games sponsors bearing the official logo is being challenged by China's other major portals.
PHOTO: AFP
This would give Sohu.com an effective Internet monopoly on ads by companies such as Adidas, Volkswagen, Johnson & Johnson and Bank of China, and its rivals are fuming.
The organizing committee's legal department is now working to untangle the affair that could determine who gets millions of dollars in advertising revenue between now and the August Games.
It could also give an invaluable boost in the broader Internet advertising sector, which marketing analyst iResearch believes will be worth more than US$1 billion this year, up nearly 40 percent on last year.
Sohu.com said its rivals felt they cannot allow the firm to gain an edge through its Olympic deal.
"In China the Internet industry is very tough and the competition will do whatever it can to fight this deal because they know it's a big one," said Chen Luming (陳陸明), Sohu.com vice-president and chief of its Olympic business division.
He said that Olympic sponsorships were tailored to exclusivity, which accounted for the growing success of the marketing program of the International Olympic Committee (IOC) and of the Beijing organizing committee (BOCOG).
But Internet sponsorship is a new category, introduced for the Beijing Olympics for the first time, and the exact extent of the rights enjoyed by the holder have yet to be clearly defined, BOCOG said.
"Our legal department is still working to determine what is exclusive and what is not," said Niu Wei, an official in BOCOG's media and communications department.
China's other major portals have formed an alliance against Sohu.com to fight the exclusivity claim and say they plan to put together Internet content for the Games and sell ads around it.
Zeng Fuhu (曾伏虎), general manager of portal business at Tom.com, said the case was clear cut.
"They have paid to get the rights to set up the official Web site of the Games and we are okay with that," he said. "They get to use the logo as well but anything beyond that is bogus."
Zeng says he should know. He worked for Sohu.com as business department director before defecting to Tom.com two years ago. One of his projects at Sohu.com was the Olympic deal.
"The claim about exclusivity on advertising has no basis ... It would be like saying that all Olympic sponsors in the US would have to put their TV ads on NBC," he said.
The network is the official US television rights holder with exclusive rights to cover the Olympics.
An IOC official said Sohu.com's sponsorship deal should not guarantee the portal "exclusive or special editorial or advertising rights on their Web site in relation to the Beijing Games."
However, BOCOG has yet to issue a ruling, while sponsors have been left in the dark.
Comments will be moderated. Keep comments relevant to the article. Remarks containing abusive and obscene language, personal attacks of any kind or promotion will be removed and the user banned. Final decision will be at the discretion of the Taipei Times.