Chery to supply auto engines to Fiat automaker
EXPANDING Under the agreement, the Chinese automaker will supply 100,000 engines per year for use in cars made by Fiat in China and abroad
Fiat Group said yesterday it will buy engines from China's Chery Automobile Co (奇瑞汽車), expanding the ambitious Chinese automaker's foreign ties just a month after it signed a deal with Chrysler to export cars to the US.
The agreement came as global automakers look to China as a low-cost production base for export and the country's own small but fast-growing competitors try to expand sales abroad.
Chery, China's biggest domestic automaker, will supply 100,000 1.6 and 1.8-liter engines a year for use in cars manufactured by Fiat in China and abroad, the two companies said in a joint statement.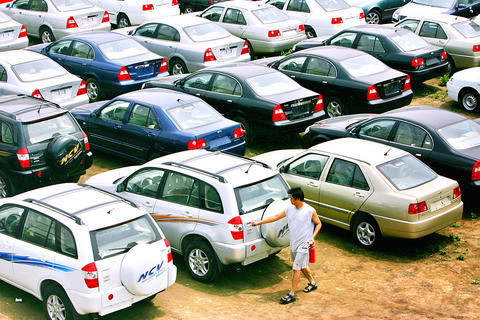 A man opens the back door to a Chery vehicle on a car lot of a Chery auto dealer in Beijing on July 4. Chery will supply Fiat with 100,000 engines a year under a deal announced yesterday.
PHOTO: AP
"The agreement will give Chery increased competitiveness on the international market," Yin Tongyao (尹同耀), president of 10-year-old Chery, said in the statement.
Chery and Fiat Group, a subsidiary of Italy's Fiat SpA, are looking at "further cooperation," Fiat Group CEO Sergio Marchionne was quoted as saying.
Chery, based in Wuhu, signed a deal with Chrysler LLC last month on a low-cost production venture to export cars to the US. Chrysler CEO Tom LaSorda said the two companies would jointly develop future models.
Japan's Honda Motor Co has exported Chinese-built Jazz subcompacts to Europe since 2005. Other companies have announced plans to export Chinese-made cars to the US but none has made it to market.
China overtook Japan last year to become the world's No. 2 vehicle market after the US.
The market is dominated by global automakers such as General Motors Corp and Volkswagen AG, but the country's small producers are expanding aggressively.
China's automakers exported 325,000 vehicles last year, about 80 percent of them low-priced trucks and buses for other developing markets in Asia, Africa and Latin America, the government said.
Chinese producers are eager to expand to US and European markets, but industry analysts say they lack the technology to meet environmental and safety standards on their own.
More are expected to make deals like Chery's in hopes that foreign partners will improve their skills.
"The agreement means that Fiat, who had been testing Chery's engines during the past year, have recognized the technologies and quality of the engines developed by Chery," Xinhua news agency quoted Chery deputy general manager Zhou Biren as saying.
Last year, Chery reported sales of about 310,000 cars, with 40,000 of those exported. Its target this year is 390,000 cars, with 70,000 sold abroad.
The company assembles vehicles with partners in Iran, Malaysia, Russia, Ukraine, Brazil and Egypt. It announced plans in March to open its first Latin American factory in Uruguay with an Argentine partner.
Chinese car sales rose 37 percent last year to 3.8 million, while total vehicle sales rose 25.1 percent to 7.2 million, the China Association of Automobile Manufacturers said.
Beijing is pressing its dozens of small auto producers to merge in order to compete with bigger, richer foreign rivals.
Last month, two of China's biggest domestic automakers, Shanghai Automotive Industries Corp and Nanjing Automobile Corp, announced a deal to combine efforts in design, production and sales.
Comments will be moderated. Keep comments relevant to the article. Remarks containing abusive and obscene language, personal attacks of any kind or promotion will be removed and the user banned. Final decision will be at the discretion of the Taipei Times.