Asia to see greatest growth in air travel: Boeing
Boeing Co said Asia-Pacific airlines will see their air traffic grow 6.3 percent a year over the next 20 years, leading them to spend more than US$1 trillion on new commercial jets to handle the increase.
Global air traffic, in comparison, will grow about 5 percent a year from now until 2026, Randy Tinseth, vice president of marketing for Boeing's Seattle-based commercial airplane division, told reporters on Monday in Singapore.
"Within the Asia-Pacific market we see the strongest growth," Tinseth said.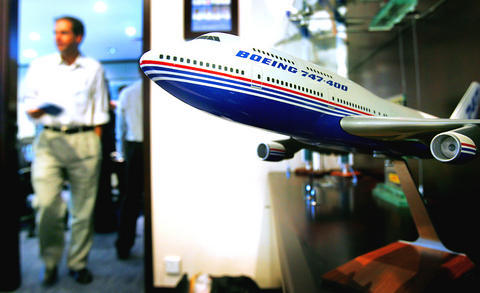 A Boeing Commercial Airplane model is seen on Monday in Singapore. Boeing forecasts that airlines in the Asia-Pacific region will see air traffic grow at 6.3 percent annually over the next 20 years.
PHOTO: AP
"This is a market that continues to liberalize, this is a market where trade is very strong and this is a market where we have strong cultural connections around the region," he said.
Asia-Pacific airlines are estimated to need about 8,350 new airplanes over the next 20 years -- which will nearly triple the region's fleet, Tinseth said.
Traffic within the Asia-Pacific region is likely to expand 6.7 percent, while domestic air traffic within China is forecast to grow at 9 percent a year.
"China today is still a relatively small market, but by the end of the 20 year period it will be about the same size as the US market today," he said.
Boeing also forecasts 6.7 percent annual growth in long-haul travel between the Asia Pacific and Africa, a relatively new flow, as fuel-efficient twin-aisle jets become more widely used, Tinseth said.
Out of the US$1.02 trillion that Asia-Pacific airlines are forecast to spend on new planes, 53 percent will be for twin-aisle planes that can carry 200 to 400 passengers and 32 percent will be for single-aisle planes that can carry 90 to 240 passengers, Tinseth said.
Regional jets that seat no more than 90 are expected to make up 2 percent. Large aircraft such as the Boeing 747 and rival Airbus' superjumbo A380, which seat more than 400 passengers, will account for 14 percent.
Comments will be moderated. Keep comments relevant to the article. Remarks containing abusive and obscene language, personal attacks of any kind or promotion will be removed and the user banned. Final decision will be at the discretion of the Taipei Times.