Ford hints at Jaguar, Land Rover sale
BIG NAME BRANDS Ford has said it expects the brands to be profitable this year, but analysts said losses had probably continued at divisions that have posed problems
First, Aston Martin left the Ford Motor Co fold. It looks as though Jaguar and Land Rover will follow.
Ford said on Tuesday that it was working with financial advisers to sort out the future of the two British brands, which have been rumored to be up for sale for more than a year.
The comments were the strongest yet from Ford, which previously had denied any plans to sell Jaguar and Land Rover. They come as Ford is trying to reverse a US$12.6 billion loss last year and raise money for its restructuring effort.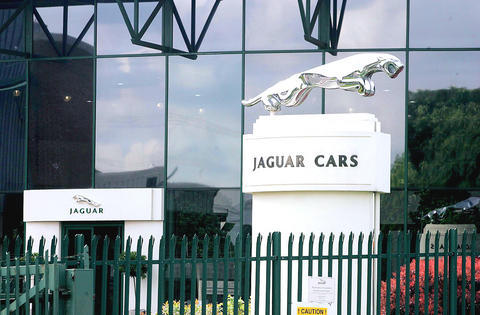 A view of the Jaguar factory in Castle Bromwich, Birmingham, England, on Tuesday. Union leaders have voiced concerns about the possibility of US car maker Ford putting its British luxury car marques Jaguar and Land Rover up for sale.
PHOTO: EPA
"As we've consistently been saying since last year, Ford Motor Company has been assessing a number of strategic options for all of our operations, as any responsible company would do," said Tom Hoyt, a Ford spokesman. "Ford is actively investigating its options in terms of other possible actions, and we're not ruling anything in or out."
"We are working with our financial advisers to determine the best future for Jaguar and Land Rover," he said.
The statement comes about three months after Ford sold Aston Martin, maker of the sports cars driven by the movie spy James Bond, for US$848 million to a group of investors led by the racing mogul David Richards. At the time, Ford said it was not looking to sell the other divisions of its Premier Automotive Group, which include Jaguar, Land Rover and the Swedish carmaker Volvo.
Jon Rogers, an analyst with Citigroup, estimated that Ford could get US$7 billion for Volvo and US$8 billion collectively for Jaguar and Land Rover. Because Jaguar and Land Rover share parts and production facilities, selling them individually could be difficult, Rogers said.
Ford bought Jaguar in 1989, Volvo's car operations in 1999 and Land Rover in 2000. It once hoped the luxury division could earn upward of US$1 billion a year.
Instead, the Premier group has lost US$1.15 billion over the last three years. Ford has said it expects the brands to be profitable this year; they earned US$402 million in the first quarter. But analysts said losses most likely had continued at Jaguar. The division has been a constant problem for Ford, which purchased it for US$2.5 billion.
One potential buyer, Jon Moulton, a managing partner of the private equity firm Alchemy Partners in London, said he was interested in Jaguar and Land Rover "on an emotional level." But he said he thought they would command a higher price than he would wish to bid.
In a telephone interview, Moulton said he expected an equity firm or a buyer in the Middle East or Russia rather than another carmaker to purchase Jaguar and Land Rover. The least likely option, he said, would be for Ford to retain ownership.
"I think a sale will have to go through," he said. "Ford's ability to continue feeding them cash is increasingly restricted. They are two very interesting brand names. Neither of them has really made much money for their owners over the last 20 years, but the allure of them is very obvious."
Comments will be moderated. Keep comments relevant to the article. Remarks containing abusive and obscene language, personal attacks of any kind or promotion will be removed and the user banned. Final decision will be at the discretion of the Taipei Times.