Dow Jones union seeks to avert Murdoch takeover
PLEASE BUY US One day after the billionaire News Corp owner met a delegation of the Bancroft family, the Dow Jones union sent some feelers to potential buyers
Hoping to head off a takeover by Rupert Murdoch, the main union for Dow Jones & Co employees was shopping around for another bidder and has entered into talks with aides to Ronald Burkle, a California billionaire, union officials and other representatives said on Tuesday.
The Independent Association of Publishers' Employees and its financial advisers, Ownership Associates, made contact a few days ago with Burkle's private equity firm, the Yucaipa Cos and people on both sides said Burkle was eager to help the union find an alternative buyer.
But they said that so far, Burkle had not signaled whether he was actually interested in trying to buy Dow Jones himself.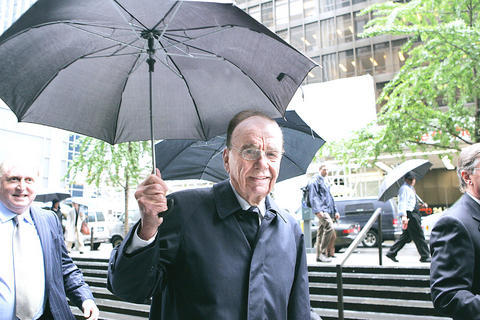 News Corp chairman Rupert Murdoch arrives at a meeting with Dow Jones representatives regarding his offer to buy the Wall Street Journal in Manhattan, New York, on Monday.
PHOTO: AP
Last year, Yucaipa was in the running to buy a dozen Knight Ridder newspapers, and Burkle joined with the real estate investor Eli Broad in making an offer for Tribune Co, but neither bid was successful.
Burkle, a well-known Democratic fundraiser, and Yucaipa are known for advising unions on business deals and making joint bids with unions.
Also on Tuesday, the union said it was wooing US billionaire Warren Buffett.
The union says it represents more than 2,000 employees at Dow Jones.
Last Thursday, the Bancroft family, which controls Dow Jones, stated for the first time that it was willing to talk to buyers, in effect agreeing to meet Murdoch, while simultaneously inviting competing bids.
This prompted the employee union to reach out to Ownership Associates.
"We gave them the job of putting together a counteroffer," said Steven Yount, president of the employee union.
"They started by contacting a number of big potential partners, and Ron Burkle was the first to say yes, he would be interested in working with us to put together a bid," he said.
While industry analysts and investment bankers have floated a number of names of potential buyers -- including General Electric, the Washington Post Co and Bloomberg -- none have stepped forward.
They may see Murdoch's US$5 billion offer as simply too rich to match or beat.
The disclosure of the union's search for another suitor came a day after the first meeting between Murdoch and his News Corp and a delegation from the Bancroft family, owners of a controlling interest in Dow Jones; other Dow Jones officials; and their advisers.
Comments will be moderated. Keep comments relevant to the article. Remarks containing abusive and obscene language, personal attacks of any kind or promotion will be removed and the user banned. Final decision will be at the discretion of the Taipei Times.