Chipmakers to ditch troubled flash units
Intel Corp and Swiss chip maker STMicroelectronics NV are unloading troubled divisions that make a type of flash memory used primarily in cellphones.
The chip makers and equity firm Francisco Partners will form a new company that will buy up the assets of Intel's and STMicro's NOR flash businesses.
The move promises to placate skittish investors concerned about the fading fortunes of NOR flash memory.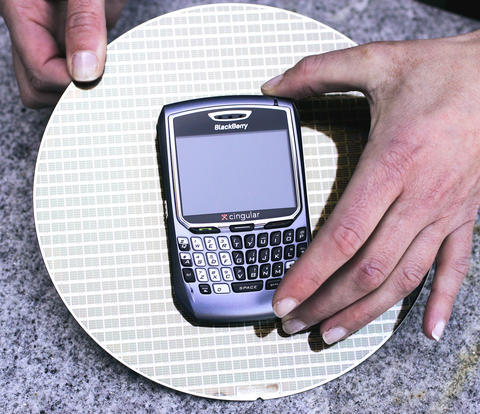 Hundreds of Intel NOR flash memory chips used in cellphones are shown under a BlackBerry cellphone at Intel Corp headquarters in Santa Clara, California, on Tuesday. Intel Corp and STMicroelectronics NV are unloading troubled divisions that make NOR flash chips.
PHOTO: AP
Not profitable
Overall revenues for the chips were US$8.3 billion last year, but the entire segment was unable to turn a profit, according to market researcher iSuppli Corp.
The deal signals the waning importance of NOR flash, which was invented by Intel in the late 1980s but has steadily lost ground to NAND flash memory. NAND memory is a cheaper alternative that's used in digital cameras and music players.
Intel, the world's largest semiconductor company, has stood by its unprofitable business, which was losing about US$150 million a year before Intel formed a joint venture in 2005 with Micron Technology Inc to produce NAND flash.
The red ink continued last year, with Intel going on to lose about US$555 million from the combined businesses.
The loss came primarily because of the startup costs for its NAND business, Intel said.
Intel no longer details its revenue for NOR flash.
Tuesday's deal will give Intel US$432 million in cash for its NOR flash unit.
Entire operation
STMicroelectronics will sell its entire flash memory operation, including the NOR division and its stake in a joint venture with Hynix Semiconductor Inc, which makes NAND flash chips, for US$468 million.
No name has been chosen for the new company, which will combine businesses that generated some US$3.6 billion in sales last year.
STMicroelectronics will retain 48.6 percent ownership while Intel will have 45.1 percent. Francisco Partners will invest US$150 million in the venture for preferred stock representing a 6.3 percent stake.
Comments will be moderated. Keep comments relevant to the article. Remarks containing abusive and obscene language, personal attacks of any kind or promotion will be removed and the user banned. Final decision will be at the discretion of the Taipei Times.