Panel decries major safety problems at BP refineries
BP had "significant" safety deficiencies at all five of its US refineries, an independent panel that was set up to probe a deadly blast in Texas in 2005 said on Tuesday.
In a 374-page report, the committee, chaired by former US secretary of state James Baker, assailed the lack of a rigorous safety culture at the British energy giant's US operations.
It found that "instances of a lack of operating discipline, toleration of serious deviations from safe operating practices and apparent complacency towards serious process safety risks existed at each of the US refineries."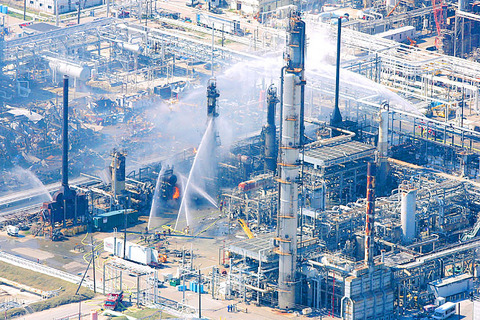 Firefighters pour water on a smoldering unit following an explosion at the BP refinery on March 23, 2005, in Texas City, Texas.
PHOTO: AP
BP said it intended to implement the panel's recommendations and noted that it had already taken a number of "significant actions" to improve the safety of its plants.
"This is about getting to a standard of excellence," outgoing BP chief John Browne told a press conference in Houston, via video link from London.
The panel was set up on the US government's recommendation following the enormous explosion at BP's Texas City refinery in March 2005, which killed 15 people and injured 180.
"BP has not provided effective process safety leadership in making certain its management and US refining workforce understand what is expected of them regarding safety performance," the panel said in a statement.
It said that "BP tended to have a short-term focus in its US refining operations," and said the US refineries lacked a common safety culture guided by clear expectations from management.
It also noted that the problems it found were not unique to BP and recommended that other oil companies reexamine their safety practices. That sentiment was echoed by federal industrial accident investigators.
"This is an opportunity for review and reform on a worldwide scale," Carolyn Merritt, chairwoman of the US Chemical Safety Board, said in response to the Baker panel's report.
"The panel's findings present a landmark opportunity for the boards of directors and executives of oil and chemical companies throughout the world to re-examine their own safety cultures and ask whether they are sufficiently investing in the people, procedures and equipment that will make their workplaces safe from catastrophic accidents," she added.
Merritt accused BP of letting "overzealous cost-cutting" undermine safety in a preliminary report on the Texas City explosion issued in November. The full report is expected on March 20.
The Baker panel, however, found no evidence that BP purposely overlooked the importance of operational safety or that it had made cuts to its safety budget.
Brown defended the company's record. "We've never focused on profits above safety -- safety has always come first," he said.
The panel did find, however, that BP mistakenly interpreted improving personal injury rates as an indication of acceptable safety performance at its US refineries.
That "created a false sense of confidence" about BP's safety culture, the report concluded.
Comments will be moderated. Keep comments relevant to the article. Remarks containing abusive and obscene language, personal attacks of any kind or promotion will be removed and the user banned. Final decision will be at the discretion of the Taipei Times.