Samsung, Sony made new market with their liquid-crystal-display joint venture
Samsung Electronics Co and Sony Corp had to overcome cultural barriers in their joint liquid-crystal display (LCD) venture but by doing so created a new market, according to a top Samsung executive.
The two global electronics giants established S-LCD Corp in the city of Asan, about 90km south of Seoul, in April 2004 to produce panels to meet soaring demand for flat screen televisions.
Sony's Japanese devotion to detail ran up against Samsung's Korean-style emphasis on speed, Lee Sang-wan, president and CEO of Samsung's LCD business, told reporters.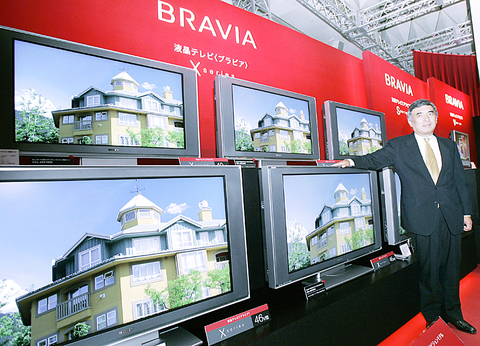 Sony Corp executive deputy president Katsumi Ihara unveils 40-inch and 46-inch models of Sony Corp's new Bravia brand liquid-crystal-display (LCD) TV lineup, using LCD panels made by Samsung Electronics Co on Sept. 14, last year.
PHOTO: AP
"So at first it worked as a cultural barrier between the two companies or two countries but now it is becoming a synergy," he said. "They are very detail oriented and we are very speedy at working."
Lee made the comments on Friday but they were embargoed for release till yesterday by Samsung.
Global demand for flat screen televisions has soared as consumers abandon their bulky cathode ray tube sets for the thinner, sleeker versions.
Samsung said on Thursday it expects the global market for LCD TV panels to grow 53 percent to 73 million units next year.
Samsung and Sony currently produce 40-inch and 46-inch panels using Samsung technology at their "seventh-generation" production line, a sleek, state-of-the art facility staffed by industrial robots and humans working in special "clean rooms."
"We created the 40-inch LCD TV market with Sony," said Lee, who attributed its success to the popularity of Samsung's Bordeaux and Sony's Bravia models, which both use panels made at the facility in Asan's Tangjeong district.
"Sony's role in opening that market and realizing growth has been important," he said.
The companies, whose products such as televisions and personal computers compete against each other in global markets, cooperate in LCD panels to ensure supply.
Comments will be moderated. Keep comments relevant to the article. Remarks containing abusive and obscene language, personal attacks of any kind or promotion will be removed and the user banned. Final decision will be at the discretion of the Taipei Times.