WTO chief warns of global trade crisis
PROGRESS NEEDED World Trade Organization chief Supachai Panitchpakdi said yesterday in China that it is crucial for free trade to be expanded to benefit the poor
World Trade Organization (WTO) chief Supachai Panitchpakdi warned yesterday that failure to make substantial progress in trade liberalization talks would be a "recipe for disaster" for the global trading system.
"We have not been making the kind of progress that we have expected; we have worked very hard ... but up to now we have not seen much substantial results," he told a two-day WTO mini-ministerial that opened in Dalian, China yesterday.
He was lamenting years of drawn-out negotiations in the WTO Doha Round of talks that began in 2001 but have missed nearly all its targets for liberalizing world trade.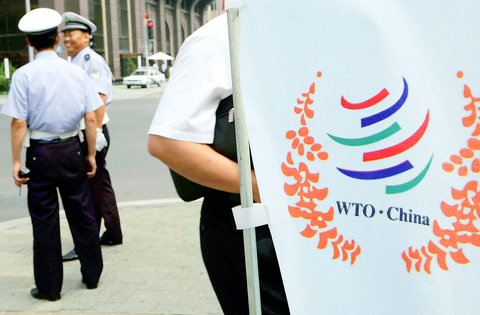 Policemen stand on a corner as a World Trade Organization (WTO) flag flies outside meetings in the Chinese city of Dalian yesterday. Security is tight as around 30 WTO members are in the northeastern Chinese city for meetings aimed at energizing negotiations on liberalizing global commerce.
PHOTO: AFP
"If we keep on like this ... the talks will be full of divergences and opposition as opposed to convergences ... this will be a recipe for disaster and failure," Supachai said.
Some 32 trade ministers are taking part in the Dalian meeting, out of the WTO's full membership of 148. Yesterday's opening discussions were to focus on agriculture, officials said.
The Doha Round aims to expand free trade in a way that benefits poor nations but the developing world is accusing developed nations of refusing to give up a trade system largely skewered in favor of the rich countries.
Members faced their biggest crisis in 2003 as the Cancun summit in Mexico collapsed in a confrontation between rich and poor over trade in services and agricultural export subsidies.
However, last week at the G8 meeting of industrialized nations in Scotland, the US and the EU pledged to get rid of the trade-distorting agricultural export subsidies as a means to boost the ongoing WTO talks.
The EU and the US are broadly hoping that developing countries will offer concessions on trade in services and industrial goods in exchange for an end to their agricultural subsidies.
Member states are hoping that a set of trade "formulas and modalities" that define trade liberalization and market access can be hammered out in the coming weeks and presented at a WTO ministerial meeting in Hong Kong in December.
"We need strong support and positive signals which can be translated into progress at the negotiating table in [late July talks] in Geneva," Supachai said.
Chinese Trade Minister Bo Xilai (薄熙來), host of the meeting, meanwhile urged states to accept 2010 as the deadline for the end of export subsidies and to quickly reach a consensus on thresholds for market access and agricultural supports.
"I have put forward ... suggestions to the EU, India, Brazil and the United States," Bo said.
"The first is whether we can strive to finish a consensus concerning a time frame for the elimination of export subsidies, namely identifying 2010 as a deadline," he said.
"The second, in the area of market access and domestic support for agriculture, is on whether we can reach a consensus for tier divisions and thresholds for each tier," he said, referring to the detailed technical language defining the two areas of trade.
However, he also played down expectations from the Dalian meeting.
"If we can make even small progress then I think it would be a contribution [from China]," Bo told Supachai in a bilateral meeting.
Observers of the ongoing negotiations voiced widespread pessimism of a successful outcome.
"World trade talks are at a crisis point," said Celine Charveriat of Oxfam International, a group advocating fair trade for poor nations.
"With less than six months to go before the WTO Ministerial in Hong Kong, negotiators are miles from consensus and have failed even to produce draft texts for discussion," she said.
Charveriat said the G8 missed the opportunity to give the talks the boost they needed.
"Their rhetoric is sadly mis-matched with the state of WTO negotiations in Geneva where rich country intransigence and self-interest is blocking progress and jeopardizing the whole round," Charveriat said.
Comments will be moderated. Keep comments relevant to the article. Remarks containing abusive and obscene language, personal attacks of any kind or promotion will be removed and the user banned. Final decision will be at the discretion of the Taipei Times.