Tobias Meyer handles gavel with smooth flair
BRINGING IN THE BUCKS Sotheby's hottest auctioneer's deep voice and relaxed manner has art collectors and buyers raving about his poise, confidence and humor
"I was so nervous that my mouth dried up completely and I was unable to speak," Tobias Meyer said, recalling the terror of conducting his first auction eight years ago during his first week on the job at Sotheby's in London. "I had to say, `13,000' and I couldn't. There was a glass of water on the rostrum and I was shaking so much I couldn't pick it up."
After watching the suave, poised and confident Meyer at Sotheby's in New York over the last two weeks -- auctioning a Jackson Pollock for US$7.9 million at a packed sale of contemporary art on Tuesday night, or a Francis Bacon triptych for a record US$8.58 million the week before -- it is hard to imagine him as a quivering wreck.
Meyer, worldwide head of contemporary art at Sotheby's since 1997, plies his trade with a potent combination of business smarts, grace at the rostrum and cocktail-party diplomacy. Although not unique in being both art expert and gavel-wielder, Meyer, 38, has emerged in the past two years as Sotheby's star auctioneer, charged with conducting not only contemporary sales in London and New York but also the firm's potentially lucrative Impressionist and Modern art auctions in New York.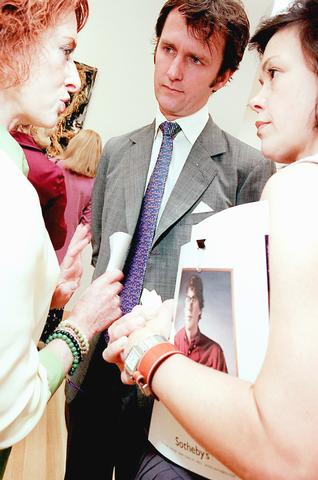 Tobias Meyer, center, listens to two potential buyers at a recent Sotheby's auction. Meyer has emerged in the past two years as the auction house's star auctioneer.
PHOTO: NY TIMES
"He's a fantastic auctioneer," said Rafael Jablonka, a German collector who bid successfully for several Warhol portraits on Tuesday at Sotheby's on York Avenue, prompting Meyer to admit he could not read Jablonka's paddle number.
"His pace can be a little slow," he added, "but he lets the bids emerge and he has a great sense of humor."
During a tense, protracted pause 20 minutes into the sale, attended by 1,200 bidders, nervous consigners and gawkers, Meyer attempted unsuccessfully to tease a bid from a reluctant participant: "You look stressed -- would you like to bid?" he inquired, eliciting laughter from the crowd.
German-born, tall, slender and determinedly cool, Meyer is not unaware of his effect. When seeking to exert his persuasive charm for maximum impact, he has a habit of tilting his forehead forward and fixing his victim with an unrelenting stare through furrowed, Wagnerian eyebrows. "Are you sure?" he asked when a woman hesitated before raising her paddle for a US$3.2 million bid.
"In my opinion, Tobias is the James Bond of the art market," said Peter Dunham, a Los Angeles-based collector. "He's beautifully dressed, has beautiful manners and is honest, straightforward and always does the right thing. But he's also tenacious and, I suspect, ruthlessly efficient in getting the deal done. His skill lies in his ability to make collectors and buyers feel comfortable."
Adjectives like "honest" and "straightforward" have been rare in the scandal-plagued auction world of late. For the past 17 months, Sotheby's and Christie's have been embroiled in a federal investigation of price-fixing. Diana D. Brooks, Sotheby's former chief executive, has pleaded guilty and awaits sentencing; A. Alfred Taubman and Sir Anthony Tennant, the former chairmen of Sotheby's and Christie's, respectively, have been indicted. The departure of Brooks, who was renowned as a brilliant negotiator with clients, has left Meyer with broader responsibilities to shoulder.
As a result, Meyer's profile has risen in a business based not only on art expertise but on social prowess. He must shine while working a party packed with potential bidders. Last Sunday, as guests at a Sotheby's brunch preview of works for sale sipped Bloody Marys and negotiated smoked salmon bagels while pausing to admire Calder mobiles and silk-screened Warhol soup cans, Meyer was on hand to greet the throng, switching between French, German, Italian and English.
To compete with his formidable but non-gavel-wielding rivals PMeyer and his team of experts dial for dollars. Part of the drill, he explained, involves calling collectors out of the blue to convince them of the wisdom of parting with a Pollock or two. "You have to be shameless," he said. "Because if you don't, somebody else will."
On his auctioneer skills, Meyer says, "I luckily have a deep voice and I think that's an important tool for an auctioneer because it carries and it creates also an element of calm.
"One of my biggest challenges as an auctioneer is to appear relaxed."
Signs of anxiety when lots fail to sell can spell disaster, "and that's tricky, because you're so emotionally involved," Meyer added. "It's very difficult to portray the opposite of what you feel."
Comments will be moderated. Keep comments relevant to the article. Remarks containing abusive and obscene language, personal attacks of any kind or promotion will be removed and the user banned. Final decision will be at the discretion of the Taipei Times.