Bosnia's 'eternal refugees' await ruling on Mladic
In 1994, she was assigned to barrack No. 21 at the Jezevac camp for displaced people, where she awaited the end of Bosnia's war.
Nearly a quarter of century later, Suhra Mustafic still lives there.
Having fled at the beginning of the 1992-1995 war, she and her four children never returned to Skelani, their village on the Drina River, a natural border between Bosnia and Serbia.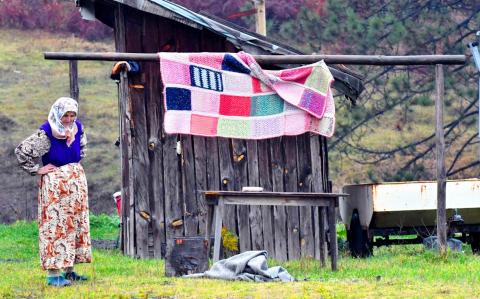 A Bosnian Muslim woman walks in the Jezevac camp for displaced people near Tuzla, northeastern Bosnia, on Friday.
Photo: AFP
Her husband was killed a few months later in the eastern town of Srebrenica fighting forces of Bosnian Serb military chief Ratko Mladic, who is to hear his verdict from a UN war crimes court today.
Now aged 54, very ill and almost blind, Mustafic is one of about 400 people who settled in the "temporary" camp between a pine forest and a coal mine waste dump.
The Jezevac camp has become a poor neighborhood on the outskirts of the northeastern Bosnian town of Tuzla.
The majority of its occupants come from the area around Srebrenica, where in July 1995, Mladic's forces executed about 8,000 Bosnian Muslim men and boys.
The atrocity was the worst in Europe since World War II and deemed genocide by international courts.
Mustafic's family living quarters, covering 35m2, were not designed to last.
Her head covered with a blue veil, she lifted the carpet to show the rotten floor. A few pieces of old furniture are also falling apart.
However, Mustafic never wanted to return to her Skelani, about 140km to the southeast.
"Never! Even if I were offered a five-story house in my village, or five houses, I would not return there," she said. "There is no one with whom I could share my daily life. My family, and those of my neighbors, were destroyed."
After the war, which claimed 100,000 lives, a peace deal split Bosnia along ethnic lines into two semi-independent entities.
Skelani is now in the Serb-run entity, Republika Srpska, while the camp is on the other side of the demarcation line, in the federation dominated by Bosnian Muslims and Croatians.
Branka Antic Stauber, from the local Women's Strength non-governmental organization assisting the refugees, said these often-widowed women in camps like Jezevac do not want to leave.
They have become "prisoners of their trauma, because they never managed to break the impasse in which they found themselves," she said.
"Idleness is the silent killer of these people and the fact that we got them used to being dependent, by giving them what they needed for years, has only plunged them into inactivity. It extinguished their need to work and their ambitions," she said.
Hadzira Ibrahimovic, 38, has been living in the Jezevac camp since she was 13 years old and started a family there.
Her three children — aged 18, 11 and five — have been "refugees since birth," the woman from the Srebrenica region said.
"We pick up coal on the dump and we sell it," Ibrahimovic said. "We cannot return. The house has been razed, there is no one left in the village, no school."
The widowed refugees receive a monthly pension of 360 convertible marks (US$217), which also supports their relatives.
"The third generation of children are starting to be born in these collective centers. We are seeing a transmission of the trauma to children and grandchildren," Antic Stauber said.
Nearly 9,000 Bosnian citizens still live in 156 such camps across the nation. Bosnian Minister for Refugees Issues Semiha Borovac announced the goal of closing them by 2020.
However, that can only be achieved with the construction of social housing.
Psychologists and social workers from Women's Strength visit Jezevac twice a week.
The organization is financially supported by Germany and the Netherlands, but not by the authorities or war victims' associations.
"Politicians come to see us before the elections. Women from Srebrenica mothers' groups have never come," Mustafic said.
Comments will be moderated. Keep comments relevant to the article. Remarks containing abusive and obscene language, personal attacks of any kind or promotion will be removed and the user banned. Final decision will be at the discretion of the Taipei Times.