HK must stand up for Beijing: Lam
'NO MAGIC WANDS': Dozens of people gathered outside the Legislative Council to protest the jailing of democracy advocates as Lam gave a speech inside
Hong Kongers have a duty to stand up for China over threats to its sovereignty, Hong Kong Chief Executive Carrie Lam (林鄭月娥) said yesterday, months after Beijing warned against any challenge to its control over the territory.
Lam, making her first policy address since she came to power earlier this year, skirted the subject of political reform as the territory's pro-democracy forces contend with an increasingly assertive Beijing.
She began her speech with a reference to Chinese President Xi Jinping's (習近平) warning that any challenge to Beijing's control over Hong Kong crossed a "red line," when he visited the territory in July to mark 20 years since its handover from British rule.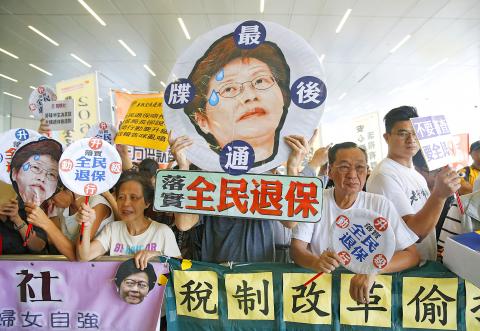 Protesters hold placards with pictures of Hong Kong Chief Executive Carrie Lam outside the Legislative Council in Central District yesterday. The banners and placards read: "Implement universal pension scheme, tax reform."
Photo: AP
"President Xi Jinping said in all earnestness that the destiny of Hong Kong has always been intricately bound with the motherland," Lam said after her opening remarks.
"Everybody with a passion for Hong Kong has ... the obligation to say 'No' to any attempt to threaten our country's sovereignty, security and development interests," Lam said.
She said that the territory has "the duty to nurture our next generation into citizens with a sense of national identity," referring to proposals to imbue the youth with a sense of Chinese patriotism.
The failure of the democracy movement to win concessions has led some young campaigners to call for self-determination or even full independence for Hong Kong, which has infuriated Beijing and local authorities.
Dodging the heated issue of political reform, the Beijing-backed leader turned to Hong Kong's acute housing shortage and described solutions to it as fundamental for social harmony and stability.
"Meeting the public's housing needs is our top priority," she said, but added that "the government has no magic wands."
Skyrocketing property prices have been fuelled by an influx of money from wealthy Chinese investors and developers.
Lam introduced a plan to roll out subsidized homes for Hong Kong's middle class at a time when the territory's wealth gap was recorded at its highest point in nearly 50 years.
Dozens of demonstrators gathered outside the Legislative Council, protesting over pension funds as they hit gongs and drums adorned with top officials' faces.
Protesters also condemned the jailing of leading advocates and the disqualification of pro-democracy lawmakers last summer, in a string of cases critics have slammed as political persecution.
The 60-year-old career civil servant Lam, who was selected in July by a mainly pro-China committee representing special interest groups from real estate to agriculture as well as lawmakers, is Hong Kong's first female leader.
Comments will be moderated. Keep comments relevant to the article. Remarks containing abusive and obscene language, personal attacks of any kind or promotion will be removed and the user banned. Final decision will be at the discretion of the Taipei Times.