Protests erupt over Charlotte fatal shooting
BLACK LIVES MATTER: Police said 12 officers were injured in clashes with people protesting the fatal shooting of a black man during a police search
Authorities used tear gas to disperse protesters, officers were injured and a highway was shut down during protests in Charlotte, North Carolina, over the fatal shooting of a black man by police who said he was armed and posed a threat.
The protests broke out on Tuesday after 43-year-old Keith Lamont Scott was fatally shot at an apartment complex on the city's northeast side. They continued into early yesterday morning, when TV footage showed dozens of protesters on Interstate 85 facing a line of law enforcement officers. At one point a fire flared up.
Neither the North Carolina Highway Patrol nor Charlotte police could immediately be reached for comment. The North Carolina Department of Transportation Web site showed a portion of Interstate 85 near the University of North Carolina at Charlotte was closed in both directions. The Web site said the closure was due to police activity.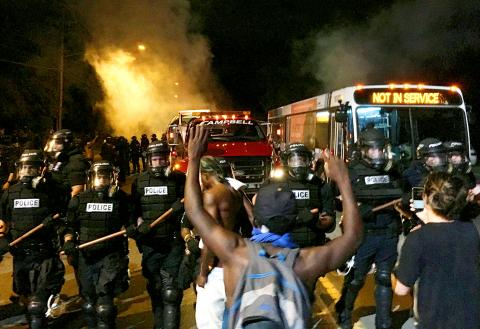 Police officers wearing riot gear block a road during protests after police fatally shot Keith Lamont Scott in the parking lot of an apartment complex in Charlotte, North Carolina, on Tuesday.
Photo: Reuters
Earlier in the night, a larger group of demonstrators gathered near the scene of the shooting. The Charlotte-Mecklenburg Police Department tweeted that demonstrators were destroying marked police vehicles and that approximately 12 officers had been injured, including one who was hit in the face with a rock. Photos and video footage showed police firing tear gas to break up the crowd. Some officers were in riot gear.
The unrest in Charlotte came just hours after another demonstration in Tulsa, Oklahoma, over the shooting there of an unarmed black man by police.
Charlotte police officers went to the complex at about 4pm looking for a suspect with an outstanding warrant when they saw Scott — who was not the suspect they were looking for — inside a car, department spokesman Keith Trietley said in a statement.
Officers saw Scott get out of the car with a gun and then get back in, Trietley said.
When officers approached, the man exited the car with the gun again. At that point, officers deemed the man a threat and at least one fired a weapon, he said.
Scott was taken to Carolinas Medical Center and pronounced dead.
Officer Brentley Vinson, who shot Scott, has been placed on administrative leave, which is standard procedure in such cases. Vinson has been with the department for two years.
Detectives recovered a gun at the scene and were interviewing witnesses, Trietley said.
Police blocked access to the area, as protesters gathered after the shooting.
Video from WCCB-TV in Charlotte showed police in riot gear stretched across a two-lane road confronting protesters at the apartment complex later in the night. Some of the officers flanked the main line on one side of the road.
Some protesters were heard yelling: "Black lives matter," and: "Hands up, don't shoot!"
One person held up a sign saying "Stop Killing Us."
Other footage showed protesters lingering around a police vehicle after shattering its windows.
Charlotte Mayor Jennifer Roberts appealed for calm and tweeted: "The community deserves answers."
In Tulsa, hundreds of people rallied outside police headquarters calling for the firing of police officer Betty Shelby, who shot 40-year-old Terence Crutcher on Friday last week during a confrontation in the middle of a road that was captured on police dashcam and helicopter video.
Shelby's attorney has said Crutcher was not following the officers' commands and that Shelby was concerned because he kept reaching for his pocket as if he was carrying a weapon.
An attorney representing Crutcher's family said Crutcher committed no crime and gave officers no reason to shoot him.
Comments will be moderated. Keep comments relevant to the article. Remarks containing abusive and obscene language, personal attacks of any kind or promotion will be removed and the user banned. Final decision will be at the discretion of the Taipei Times.