Putin uses Greece visit to denounce Western 'threat'
NATO MISSILE SITE: 'Of course it's a threat to us. It can easily be modified to have an aggressive capability,' Putin said of the site in Romania that became active this month
On his first trip to an EU country this year, Russian President Vladimir Putin on Friday sharply criticized Western policy toward Moscow, describing a newly expanded US missile defense system as a threat to his country's security — and vowing to retaliate.
Putin arrived in Athens on a two-day visit and emerged from talks with the Greek government to lash the US and NATO allies, also accusing them of stifling trade and energy cooperation with Russia.
Earlier this month, the US program was declared operational at a site in Romania, drawing an angry reaction from Russia.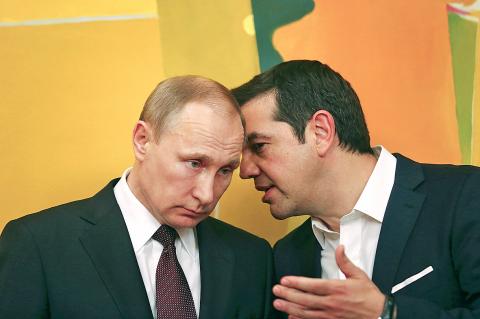 Russian President Vladimir Putin, left, on Friday listens to Greek Prime Minister Alexis Tsipras at Maximos Mansion in Athens, Greece.
Photo: Bloomberg
NATO says the system is purely defensive and a response to a growing capability of ballistic missiles globally.
"We keep hearing that it's not a threat against Russia, that it's not aimed at Russia," Putin said late on Friday. "Of course it's a threat to us. It can easily be modified to have an aggressive capability."
"If yesterday some parts of Romania did not know what it means to be targets, we will now be forced to take certain actions which will guarantee our security," he said, but did not elaborate.
Putin has made only a handful of visits to EU countries since sanctions were imposed on Moscow two years ago in response to the Ukraine crisis and Russia's annexation of Crimea following an internationally disputed referendum.
"The issue of Crimea is over forever, based on the will of the people who live there. Russia will never negotiate on this issue," Putin said.
Athens is keen to maintain its traditionally close ties with post-Soviet Russia, despite its participation in EU sanctions against Moscow and a gas pipeline project designed to limit Russia's regional energy dominance.
Russia is one of Greece's main trading partners, but business has been hit by the sanctions and a drop in commodity prices. Greece is also keen to reverse a slump in tourist arrivals from Russia, and attract interest from Russian companies in the planned privatization of rail and other transport services.
Greek Prime Minister Alexis Tsipras said that Putin's visit comes just days after Athens reached a deal with eurozone bailout creditors to continue rescue loans, under a deal that expands power of a state privatization committee.
"Improving relations with Russia on multiple levels is a strategic choice," Tsipras said. "Of course ... when the disagreements exceed our powers, we can act a positive influence within the EU and NATO."
Putin traveled to Greece with Russian Minister of Foreign Affairs Sergey Lavrov and top executives from Russian oil and gas companies. Amid heavy security at Athens Airport, F-16s buzzed overhead as part of a welcoming ceremony.
"This will be the first time Putin has visited an EU country in the past six months and Russia-EU relations will be definitely on the agenda," said Alexander Kokcharov of the US-based IHS Country Risk group. "Putin is likely to offer investment projects in Greece, most likely in energy and transport sectors. However, we do not expect that Greece would go against the EU consensus."
Yesterday, Putin visited the Orthodox Christian monastic community of Mount Athos, joined by Russian Orthodox Church Patriarch Kirill, to celebrate 1,000 years of Russian presence on Mount Athos.
About 2,500 police were providing security for Putin's visit in Athens, and much of the city center was blocked to motorists.
Outside the Greek parliament, a small group of demonstrators from a Greek gay and lesbian rights association gathered in protest against Putin's visit, chanting "Greece, Russia, Homophobia."
Protester Savvas Kleanthous said violence against gays in Russia goes largely unpunished
"We're here to support the Russian gay community," he said. "We haven't forgotten them."
Comments will be moderated. Keep comments relevant to the article. Remarks containing abusive and obscene language, personal attacks of any kind or promotion will be removed and the user banned. Final decision will be at the discretion of the Taipei Times.