HK anti-China activist runs in key by-election
A Hong Kong activist who promotes independence from China and was involved in recent street battles with police stood for office yesterday in a key by-election that highlights the territory's political fault lines.
Edward Leung (梁天琦), 24, one of the leaders of "localist" group Hong Kong Indigenous, is vying to become a legislator after a prominent pro-democracy politician stepped down.
Leung is taking on six other contenders for the New Territories East seat, including candidates from pro-Beijing and pro-democracy camps.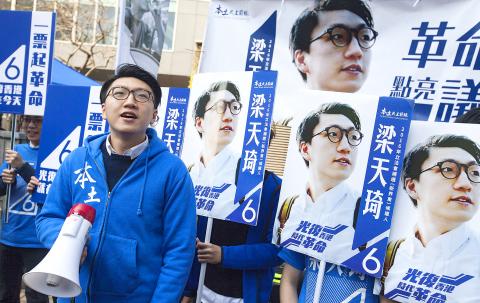 Edward Leung, a pro-independence candidate from the Hong Kong Indigenous group, attends a campaign rally the in New Territories yesterday.
Photo: EPA
Since massive rallies in 2014 calling for fully free leadership elections failed to win concessions from Beijing, young protesters like Leung have become increasingly disillusioned with the more established pro-democracy parties.
Smaller groups have emerged under a "localist" banner, pushing for greater autonomy and even independence from China, as fears over interference from Beijing grow.
Their frustrations spilt over into violence earlier this month when running street battles left more than 100 injured after masked protesters hurled bricks at police, who fired warning shots in the air.
Leung is facing a rioting charge for his involvement.
"Hongkongers are the masters of their own soil," Leung said yesterday.
"I will defend Hong Kong people's interests and Hong Kong people's rights," he told reporters.
Leung is not tipped to win, but his candidacy would be a barometer of how much support the fledgling localist movement can garner at the ballot box.
"I voted for him. We need to speak out about what's happening," a 56-year-old engineer surnamed Cheung said. "It's completely understandable that young people want change."
Others urged calm.
"We should not be radical," a 40-year-old voter surnamed Yeung said.
"Any problems should be dealt with peacefully and rationally," she said.
Observers said Alvin Yeung (楊岳橋) of the established pro-democracy Civic Party or Holden Chow (周浩鼎) of the pro-Beijing Democratic Alliance for the Betterment of Hong Kong are most likely to win.
Comments will be moderated. Keep comments relevant to the article. Remarks containing abusive and obscene language, personal attacks of any kind or promotion will be removed and the user banned. Final decision will be at the discretion of the Taipei Times.