Haiti in talks to postpone runoff election
Haiti could delay a presidential runoff election if the opposition commits to taking part at a later date, Haitian Prime Minister Evans Paul said on Wednesday, adding the vote will go ahead on Sunday if there is no deal to end a political stalemate.
Protesters burned vehicles and barricaded roads this week after opposition candidate Jude Celestin vowed to boycott the vote over alleged fraud in the first round.
The runoff has already been postponed twice during an inquiry into the allegations.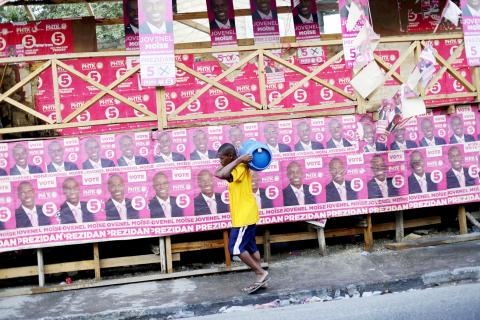 A man carrying a gas cylinder on Wednesday walks next to posters of Haitian presidential candidate Jovenel Moise in Port-au-Prince.
Photo: Reuters
"We are in the middle of a series of negotiations," Paul said. "[Haitian] President [Michel] Martelly and I have been talking about the possibility of considering a postponement of Sunday's election."
The supporters of Swiss-trained engineer Celestin are demanding that the government first suspend Sunday's vote to cool tempers, before discussing a new date for the contest with ruling party candidate Jovenel Moise, a banana exporter.
"We insist, they need to withdraw the Jan. 24 date to calm down the population that is protesting," said Jean Anacacis, Celestin's representative in the talks, adding that the opposition would not seek to "overly delay" the date.
The nation of about 10 million people has struggled to build a stable democracy since the overthrow of the 1957 to 1986 dictatorship of the Duvalier family and ensuing military coups and election fraud.
Political instability has hampered Haiti's efforts to rebuild six years after a devastating earthquake.
International partners, including the UN and the US, want the election held on Sunday to ensure a new president was in place by Feb. 7, a constitutional deadline.
However, the protests, and Celestin's refusal to accept the election as legitimate, have led business and church leaders to conclude a vote postponement would be better. The Senate also supported a non-binding motion on Wednesday to postpone.
Martelly's five-year term ends in May, leaving room for flexibility. A possible March election is under discussion, but the two sides differ on whether Martelly should stay in office until a new president is sworn in.
Opposition parties have been pushing for an interim government to be set up. They want Martelly to leave office by the constitutional deadline.
Martelly has repeatedly opposed an interim government, a move he said could plunge the nation into political uncertainty.
Paul said any delay would have to be matched with a commitment from Celestin to participate in a runoff later.
"President Martelly and I are open to consider such a possibility," he added. "But it would not be responsible to postpone the election sine die, vaguely hoping that Mr. Celestin would agree one day to change position."
For now, Paul said, the election is set for Sunday.
Comments will be moderated. Keep comments relevant to the article. Remarks containing abusive and obscene language, personal attacks of any kind or promotion will be removed and the user banned. Final decision will be at the discretion of the Taipei Times.