Mexico extradites two alleged drug lords to US
Mexico has extradited to the US two high-ranking alleged drug lords, the attorney general's office said on Wednesday, the two most prominent to be handed over since the escape of Sinaloa cartel leader Joaquin "El Chapo" Guzman in July.
The two men, Edgar "La Barbie" Valdez and Gulf Cartel capo Jorge Costilla, were among 13 defendants transferred to US authorities. They were sent by plane and are wanted for various violent crimes and drug trafficking-related offenses.
Valdez, a US-born former leader of the Beltran Leyva cartel, according to Mexican and US authorities, was arrested in August 2010, during then-Mexican president Felipe Calderon's battle with Mexico's powerful drug gangs.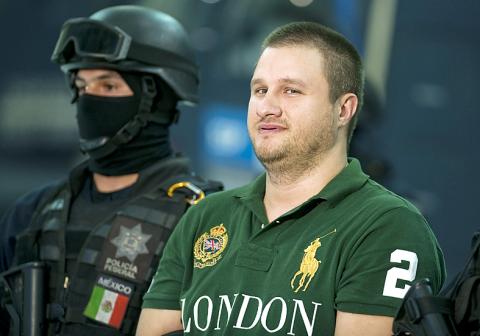 Edgar Valdez Villareal aka "La Barbie," of the Beltran Leyva drug cartel, is presented to the media at the Federal Police headquarters in Mexico City, Mexico, on Aug. 31, 2010.
Photo: AFP
Costilla, known as "El Coss," a long-standing leader of Mexico's Gulf cartel, was captured by the Mexican Navy in September 2012, shortly before Calderon left office.
Following Guzman's jailbreak, the Mexican government revealed it had received an extradition request from the US for the Sinaloa boss, who was the most-wanted drug lord in the world before his capture in February last year.
Guzman's escape through a 1.6km-long tunnel that surfaced in his prison cell was a major embarrassment for Mexican President Enrique Pena Nieto, especially as he had also broken out of jail in 2001.
Critics said Pena Nieto should have handed over Guzman given Mexico's past record with him. The government had resisted doing so, citing national sovereignty, but since his jailbreak has appeared to change its stance on extradition.
Nicknamed "La Barbie" for his fair complexion, Valdez became one of the most powerful figures in the Beltran Leyva cartel after Mexican soldiers killed former boss Arturo Beltran Leyva in December 2009, authorities said, triggering a power struggle within the gang.
Once close to Guzman, Valdez grew up selling marijuana in the US and developed a taste for luxury cars, nightclubs and designer clothes.
The US Department of Justice praised Mexico for its efforts.
"I am grateful to our Mexican counterparts not only for their assistance with this important matter, but also for their extraordinary efforts and unwavering partnership in our ongoing fight against international organized crime," US Attorney General Loretta Lynch was quoted as saying in the statement.
Comments will be moderated. Keep comments relevant to the article. Remarks containing abusive and obscene language, personal attacks of any kind or promotion will be removed and the user banned. Final decision will be at the discretion of the Taipei Times.