Pro-regime Syrians back army, but dodge draft
Young Syrian men in government-controlled areas are using any means necessary, including violent protests, to avoid military conscription — even if they support the government.
More than 80,000 soldiers and other pro-regime fighters have been killed in the four-year-old conflict, out of a total of roughly 220,000 dead, according to the Syrian Observatory for Human Rights.
"I'm with the regime, but I am a deserter, because military service in Syria means death," said George, a student from Damascus. "Very few young men accept to enlist, because at our age, no one wants to die."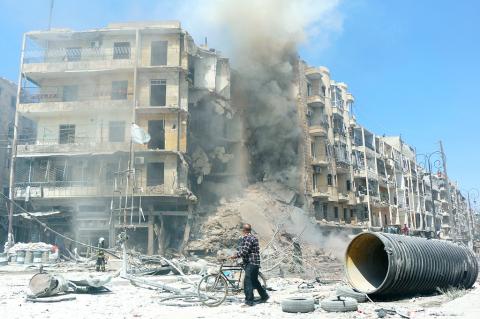 A man walks past the rubble of a building in Aleppo, Syria, on Saturday.
Photo: AFP
As the territory that has fallen out of regime control is predominantly Sunni Muslim, the government is heavily recruiting from among the Druze, Christian, Alawite and Ismaili minorities.
Now these communities say that they have paid a heavy price to defend Syrian President Bashar al-Assad's rule against deadly opponents, including al-Qaeda-linked militants and the Islamic State group.
"Even if they support the army and the regime, they're not willing to serve its flag," said Sema Nassar, a human rights activist from the northwest province of Latakia, a heartland for the Alawite sect from which al-Assad hails.
"Everyone without exception is discontent. After four years of an ugly war, who isn't unhappy?" Nassar said.
Faced with a "war of attrition ... the government must use considerable coercion" to replenish its ranks, said Joshua Landis, director of the Center for Middle East Studies at the University of Oklahoma.
"The rebels speak about being able to outlast the Alawites and kill their young men. They probably can if the war goes on long enough," Landis said.
Sunni Muslims make up about 80 percent of Syria's population, while Alawites constitute roughly 10 percent.
Syrian men by law are required to serve a two-year military service, which can be extended for much longer.
Hit by defections and desertions, Syria's 300,000-strong military has halved in size since 2011, according to Aram Nerguizian, a military affairs expert from the Center for Strategic and International Studies. To reverse the trend and snare draft dodgers, military police have redoubled their efforts.
"They set up checkpoints at the entrances to cities and check the buses coming through them for young men," said Omar al-Jeblawi, a rights advocate from Jeblah in Latakia.
He said security forces also stand guard at university gates to screen male students and teachers.
"They comb through neighborhoods and take all of the guys 18 and up," Jeblawi told reporters by telephone.
According to George, deserters are also caught when they seek a government service, like getting married.
To avoid the draft, some have fled the country, while others have paid exorbitant bribes to officials.
In Damascus, "young men enroll in university just to get a waiver," George said.
Others, including Sunnis, join local pro-government militias like the National Defense Force to avoid being stationed in distant provinces, Jeblawi said.
He said young men in Latakia had also set up guards around houses they thought may be raided by security forces.
The most significant resistance took place in Sweida, a southern bastion of Syria's Druze minority.
In April, in the town of Salkhad, Abdallah Abu Mansur was arrested by local police for deserting the armed forces, a resident said. Relatives and friends then held a violent protest outside the police station.
It was the latest of many similar incidents in the province.
In December last year, residents of another town took a man hostage and broke into the office of local security forces and released a relative. In November, a mob attacked a military patrol after it had forcefully recruited someone.
And in the summer of last year, Druze religious leaders stopped a military patrol from arresting another young deserter.
In all these cases, the deserter being held was released — some say due to political considerations.
"The government doesn't dare respond brutally, as it fears that the Druze will change sides and join the opposition," the resident said.
Comments will be moderated. Keep comments relevant to the article. Remarks containing abusive and obscene language, personal attacks of any kind or promotion will be removed and the user banned. Final decision will be at the discretion of the Taipei Times.