Anti-police violence rally disrupts US mall
A mass of demonstrators chanting "Black lives matter" on Saturday converged in the Mall of America rotunda as part of a protest against police brutality that caused at least part of the mall to shut down on one of the busiest days for holiday shopping.
The group Black Lives Matter Minneapolis had more than 3,000 people confirm on Facebook that they would attend. Official crowd estimates were not immediately available, but pictures posted to social media by local news organizations showed the rotunda was full. Organizer Mica Grimm estimated about 3,000 people participated.
The rally is part of protests that have been going on nationwide after white police officers were not charged in the deaths of unarmed black men in Missouri and New York City.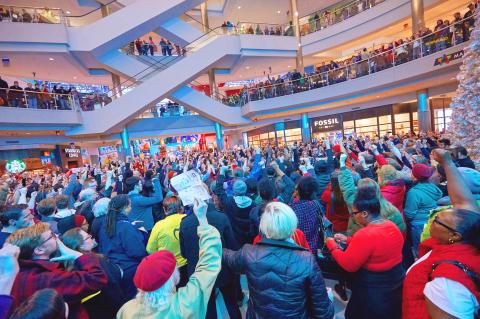 Thousands of protesters from the group "Black Lives Matter" on Saturday disrupt holiday shopping at the Mall of America in Bloomington, Minnesota.
Photo: AFP
The Mall of America increased security, and certain parts of the mall were closed for some time. Signs were posted at some entrances advising shoppers that the east side of the mall was on lockdown.
Bloomington police said 25 people were arrested, mainly for reasons such as trespassing.
Police Commander Mark Stehlik said that he was not aware of any injuries or property damage.
The mall on Saturday issued a statement saying that its officials were "extremely disappointed" that protest organizers ignored the policy banning political protests.
About 30 minutes after the planned protest began, a final warning to disperse was given, and police in riot gear began clearing the rotunda, the Star Tribune reported.
A large group of protesters began leaving the mall, but others migrated to a shopping area and occupied two levels. A small "die-in" with people lying on the floor was staged in front of several stores.
About an hour later, organizers sent out a group text message advising those who were still inside to exit. Live video from KSTP-TV showed police in riot gear were marching through the mall's skyway, ushering protesters outside.
During the planned rally, protesters in the rotunda shouted: "While you're on your shopping spree, black people cannot breathe" — a reference to the chokehold a police officer placed on Eric Garner, who died in New York.
As they were dispersing, they walked down the hall with their arms raised, shouting "Hands up, don't shoot!"
Mall representatives had said that a demonstration there would violate policy, and protesters could be removed, arrested and banned.
"Mall of America is a commercial retail and entertainment center. We respect the right to free speech, but Mall of America is private property and not a forum for protests, demonstrations or public debates," the mall management said days before the protest.
Grimm told reporters that organizers believed the protest was a success.
"Our goal is to bring more attention to these issues — and what just happened, nobody can ignore," she said.
Comments will be moderated. Keep comments relevant to the article. Remarks containing abusive and obscene language, personal attacks of any kind or promotion will be removed and the user banned. Final decision will be at the discretion of the Taipei Times.