HONG KONG PROTESTS: HK protests backed in Big Apple
WORLDWIDE SUPPORT: About 350 people rallied in Times Square, New York, on Wednesday, while about 2,000 gathered outside the Chinese embassy in London
Chanting "Hong Kong, stay strong," about 350 people rallied in New York's Times Square late on Wednesday to show their support for pro-democracy protesters in the southern Chinese territory.
Many were toting umbrellas which have become a symbol of the massive protests in Hong Kong seeking broader democratic freedoms.
Four days of peaceful demonstrations have seen tens of thousands of people take over usually traffic-heavy streets in Hong Kong as they demand Beijing grant free elections in the semi-autonomous territory.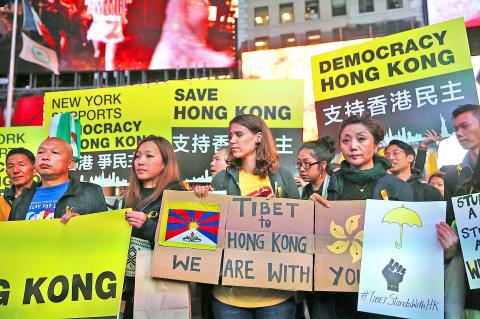 People demonstrate in New York's Times Square to show solidarity with pro-democracy protests in Hong Kong on Wednesday.
Photo: AFP
Demonstrators, who have shut down central areas of Hong Kong for four days, gave Hong Kong Chief Executive Leung Chun-ying (梁振英) until midnight yesterday to step down, or face escalated action.
"It's going to be a long fight, but I hope the people of HK will keep strong and keep fighting for their rights," said Erin Robles, 22, an interior designer who traveled to New York from Hong Kong to study. "I support what they are fighting for. I still feel very strongly that I am part of the people there."
Laurie Wen, a native Hong Konger who was one of the New York event's organizers, said of the protests at home: "How can you not be moved?"
"I was born in HK, without the right to vote, and that is supposed to be over. This is unacceptable," Wen said.
The New York show of solidarity came as support for the protesters has been growing worldwide.
About 10,000 people turned out in Taipei, while in London 2,000 people gathered outside the Chinese embassy.
In Washington, Beijing warned the US to back off, in its strongest riposte yet to worldwide supporters of the suffrage movement.
"Hong Kong affairs are China's internal affairs," Chinese Minister of Foreign Affairs Wang Yi (王毅) told US Secretary of State John Kerry at a press conference.
"All countries should respect China's sovereignty and this is a basic principle of governing international relations," Wang said.
He added that Beijing would not tolerate "illegal acts that violate public order."
Kerry replied, urging Hong Kong authorities to "exercise restraint and respect the protesters' right to express their views peacefully."
The Hong Kong protesters are furious at the Chinese government's refusal to allow free elections for the territory's next leader in 2017.
Beijing insists that only two or three candidates vetted by a pro-Beijing committee will be permitted to stand.
Comments will be moderated. Keep comments relevant to the article. Remarks containing abusive and obscene language, personal attacks of any kind or promotion will be removed and the user banned. Final decision will be at the discretion of the Taipei Times.