Ugandan police derail 'imminent' terror attack
EMBASSY TWEETS: The US warned its citizens to take shelter during an antiterrorist action in the capital led by Ugandan law enforcement agencies
The US embassy in Uganda told its citizens to seek safety on Saturday, saying that local authorities had uncovered a "terrorist cell" run by Somali militant group al-Shabaab, which they believed was planning an imminent attack.
Ugandan law enforcement later said it had foiled an attack in central Kampala and was increasing security at hotels and other public places, but declined to say who was behind the attack.
The embassy, in a statement published on its Web site, said it was not aware of specific targets, but said the authorities had increased security at key sites including Entebbe International Airport.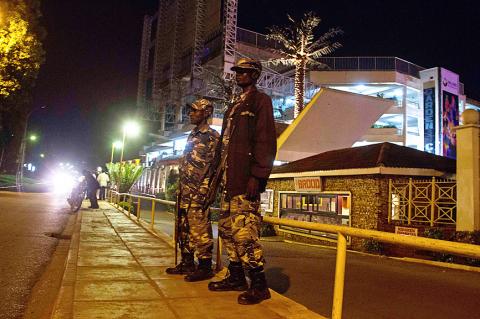 Ugandan police forces and security agencies are seen outside one of Kampala's most prominent malls on Saturday.
Photo: AFP
"Today, Ugandan authorities reported the discovery of an al-Shabaab terrorist cell in Kampala, Uganda," the embassy said. "We remain in close contact with our Ugandan counterparts as investigations continue into what appears to have been planning for an imminent attack."
At a news conference later, Ugandan police said they had seized explosives and arrested an unspecified number of foreigners after foiling an attack.
However, Fred Enanga, a spokesman for the Ugandan police force, declined to say whether he believed the cell was connected to al-Shabaab and to name the nationalities of those detained.
Uganda, as one of the countries that contribute forces to an African Union peacekeeping mission battling al-Shabaab in Somalia, has experienced militant attacks in recent years, and al-Shabaab has threatened to carry out more.
The US embassy, shortly before issuing its announcement, told its citizens — via Twitter — to stay at home or proceed to a safe location while Ugandan authorities completed operations against a suspected cell in Kampala.
The embassy has said Uganda faces a "continued threat" and has issued other alerts during the year about possible attacks.
Al-Shabaab claimed responsibility for the attack on the Westgate shopping mall in Nairobi in neighboring Kenya a year ago, in which 67 people died.
This month the group warned of revenge against its enemies after it said its leader, Ahmed Godane, had been killed in a US air strike on his encampment in Somalia.
Comments will be moderated. Keep comments relevant to the article. Remarks containing abusive and obscene language, personal attacks of any kind or promotion will be removed and the user banned. Final decision will be at the discretion of the Taipei Times.