Tunisian blogger's drug case dismissed
A prominent Tunisian blogger who accused police of fabricating cannabis-related charges against him walked free from court on Friday after a judge threw out the case.
Azyz Amami, who was active during Tunisia's 2011 uprising and was critical of the police both during and after the revolution, was arrested along with a friend on May 12 and charged with "possession and consumption of drugs."
A conviction can carry a five-year jail term.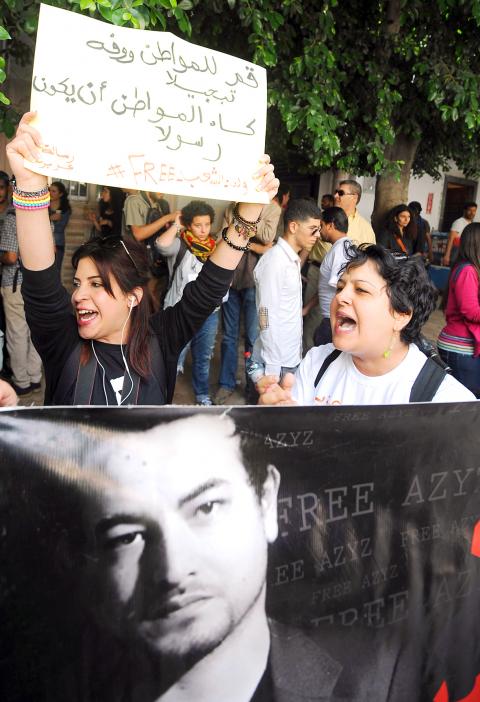 Tunisians protest in front of the courthouse where renowned blogger Azyz Amami was freed in Tunis on Friday.
Photo: AFP
The court registry office told reporters that the judge had "pronounced that the case was dismissed."
"I had no narcotic substance in my possession; I had nothing at all. I have been arrested and attacked" by the police, Amami told the judge earlier in the day at the court in Tunis.
The judge had asked Amami if he was accusing the police of planting the drugs on him, to which he responded: "Yes, sir."
He also refused to take a drug test, saying it would "undermine his integrity."
Amami was active during the 2011 uprising against former Tunisian president Zine El Abidine Ben Ali and arrested along with hundreds of other anti-regime protesters.
He often accused police of abuses in his blog.
The defendant said he was arrested and beaten by police in September 2011 for posting a joke deemed insulting to the security forces.
Defense lawyer Bassem Trifi said Amami had refused the drug test because he did not trust police not to tamper with the results.
"The justice system showed that Aziz Amami is not a criminal. A part of that justice system has shown that it is independent," fellow defense lawyer Ghazi Mrabet said.
Dozens of Amami's supporters took part in a demonstration outside the courthouse.
"Azyz is a hostage of a judicial and security system... Azyz is an enemy of the police and they attacked him," said the blogger's father, Khaled Amami.
Amami has thousands of followers on online social networks.
Drug laws are very tough in Tunisia, with jail terms the norm for those convicted.
Activists have been calling for less severe punishments for convicted drug users.
More than 50 percent of Tunisians held in pretrial detention and around one third of Tunisia's 11,000 convicts were arrested on drug-related charges, and cannabis in particular, according to UN figures.
Earlier this month Tunisian Prime Minister Mehdi Jomaa announced his support for reforms to the law, saying it was "no longer in tune with the times. We are in the process of amending so that it conforms to new realities."
The health and justice ministries are trying to "humanize" the legislation, health ministry director general Nabil Ben Salah has told reporters, while cautioning that decriminalization was not an option.
Comments will be moderated. Keep comments relevant to the article. Remarks containing abusive and obscene language, personal attacks of any kind or promotion will be removed and the user banned. Final decision will be at the discretion of the Taipei Times.