S Africa set to move rhinos to Botswana
JOINT INITIATIVE: Two conservation companies are to relocate the endangered animals to a safe haven in Botswana after a record number were killed last year
Up to 100 rhinos are to be moved from South Africa across the border to Botswana's remote wilderness in an attempt to put them beyond the reach of rampant poaching, conservationists said on Wednesday last week.
The mass relocation comes after a record 1,004 rhinos were killed in South Africa last year and the failure of every measure tried so far to curtail the scourge, which is fueled by demand for horn in Asia. The crisis is under discussion at a global summit in London today aimed at beating back the illegal wildlife trade.
The latest US$8 million initiative was announced jointly by two conservation companies, Great Plains Conservation and Beyond. They said each rhino would be tagged and microchipped for research and monitoring. A dedicated anti-poaching team will then work with Botswana's government to monitor the animals.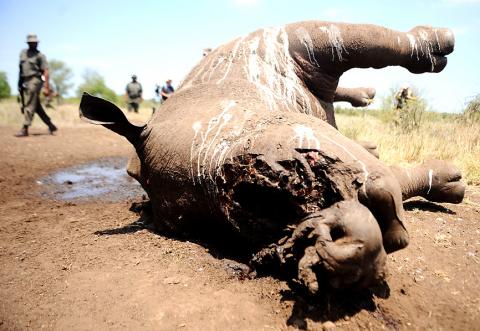 Kruger National Park staff walk near the three-day-old carcass of a rhinoceros killed by poachers at Houtboschrand in the southern part of the Kruger National Park, northeastern South Africa, on Nov. 27 last year.
Photo: AFP
"There is a battle for Africa's wildlife raging as we speak," Great Plains chief executive Dereck Joubert said. "Rhinos are being poached at a rate of one every nine hours and the official number is 1,004 dead in 2013 alone."
"The unofficial number, because we simply do not find them all, is well over 1,000. Like everyone, I've been watching this desperate situation worsen, which is why Great Plains Conservation and Beyond have decided to take action," he added.
"Botswana has an excellent security system in place to protect these endangered animals and will be a safe haven for the relocated rhino," said Joss Kent, chief executive of Beyond, which relocated six rhinos from South Africa to Botswana last year.
"Translocations are fundamental to secure the ongoing survival of endangered species and this groundbreaking project aims to protect the species for future generations to enjoy. A project this size requires a strong partnership and a huge resource pool to pull it off," he added.
The company said it would announce specific fundraising initiatives to enable tourism stakeholders, travel partners, tour operators and guests to help save the rhino.
South Africa National Parks welcomed the plan.
"The initiative would be a good one; we need every initiative to save the species," South Africa National Parks spokesman Isaac Phaahla said.
South Africa is home to about 80 percent of the world's rhino population, estimated at more than 25,000. Most dwell in the vast Kruger National Park, where more than 60 percent of South Africa's rhino poaching occurs.
Botswanan President Ian Khama is among the speakers at the London conference on the illegal wildlife trade. The landlocked southern African country can point to positive examples such as Khama Rhino Sanctuary, a reserve, where not a single animal has been poached since its creation 24 years ago.
Comments will be moderated. Keep comments relevant to the article. Remarks containing abusive and obscene language, personal attacks of any kind or promotion will be removed and the user banned. Final decision will be at the discretion of the Taipei Times.