BJP leaders seek unity on PM candidate
India's Hindu nationalist party scrambled on Saturday to win support from the movement's most senior leader over a decision to anoint controversial politician Narendra Modi as candidate for premier in looming elections.
Senior leaders of the Bharatiya Janata Party (BJP), including lower parliamentary house chief Sushma Swaraj, visited 85-year-old BJP cofounder LK Advani at his New Delhi home.
However, they failed to smooth over differences with Advani, who had written to the BJP earlier in the week to say he was "anguished and disappointed" about developments in the party.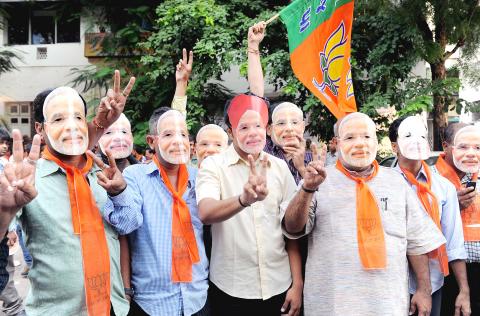 Supporters of Bhartiya Janta Party pose with masks of India's Gujarat Chief Minister Narendra Modi after he was named the party's prime ministerial candidate for next year's elections, in Ahmedabad, India, on Friday.
Photo: AFP
Advani boycotted Friday's ceremony at which Gujarat Chief Minister Modi, his one-time protege, was nominated to be the BJP's prime ministerial candidate in polls due by the end of next year.
The unhappiness of Advani, who has harbored his own prime ministerial ambitions, has underscored discord within BJP's ranks over Modi's nomination.
"Every family has a right to its disagreements," BJP president Rajnath Singh said.
Hardline Hindu leader Modi is one of India's most polarizing politicians, tainted by deadly anti-
Muslim riots on his watch in 2002, but also credited with turning Gujarat into an economic powerhouse.
Newspapers on Saturday splashed Modi's nomination on its front page. "BJP Crowns Modi. Will India Follow?" The Economic Times ran in a headline.
Modi remains under a ban from entering the US imposed in 2005 over the riots. The Press Trust of India on Saturday quoted a US Department of State spokeswoman as saying there was "no change" in Washington's visa policy toward Modi.
Modi has become a hero of middle-class India, hailed as a business-friendly modernizer who could revive a sharply slowing economy, while the BJP hopes he can end the party's near-decade in the political wilderness.
Detractors revile Modi as a Hindu zealot who allegedly turned a blind eye to anti-Muslim riots on his home turf, in which as many as 2,000 people were hacked, burned and shot to death, according to rights groups. Modi has denied any wrongdoing.
After his nomination, Modi, 62, returned to his home state to supporters' cries: "The lion of Gujarat has arrived."
"The BJP has become the only ray of hope for the common people," the charismatic orator said in a speech late on Friday. "Only the BJP has the capacity to bring our country out of these [economic] crises and take it to new heights of development."
Such was public revulsion over the riots, Modi at one time seemed to have no future on the national stage in constitutionally secular India. However, voter disenchantment with the corruption-tainted ruling Congress and the economic downturn has created a groundswell of support for Modi.
Modi is expected to be pitted in campaigning against Congress heir-apparent Rahul Gandhi, 43, whose family has given India three prime ministers.
Yet Modi's pan-India appeal and ability to erase memories of the riots remain an issue, while there are doubts about Gandhi's ability and desire for the job.
Polls point to a fractured election outcome in which smaller regional parties with differing agendas, which rely on Muslims and other religious minorities for support, could end up with the upper hand.
While former India prime minister Atal Bihari Vajpayee was known for his "consensus" touch in forging alliances, Modi's brand of hardline Hindu politics are seen as discouraging prospective coalition partners.
Regional leader Nitish Kumar, a BJP member, Bihar state's chief minister and seen as a prime ministerial contender under a so-called "Third Front scenario" said on Saturday that India will never accept a "divisive" candidate. While a majority-Hindu nation, India also has 130 million Muslims out of a population of 1.2 billion and no party can afford to alienate them.
Comments will be moderated. Keep comments relevant to the article. Remarks containing abusive and obscene language, personal attacks of any kind or promotion will be removed and the user banned. Final decision will be at the discretion of the Taipei Times.