Taller, now faster: Dubai gives cops Lamborghinis
The city that boasts the world's tallest building is equipping its police with US$400,000 Lamborghini sports cars that Dubai's deputy police chief says are in keeping with the Gulf capital's image.
They also go fast, since according to the Web site of Lamborghini, an affiliate of the Volkswagen Group, all the Italian company's cars reach 100kph in well under six seconds.
Major General Khamis Mattar al-Mazeina said that a fleet of Lamborghinis, each estimated to cost around US$400,000, had been obtained by the Dubai police for use at main tourist sites.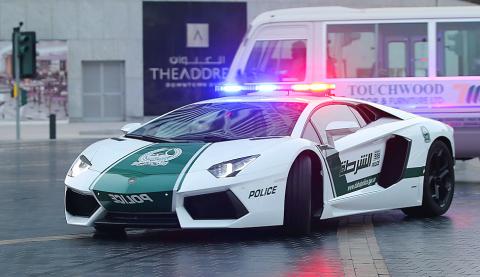 A police department Lamborghini Aventador patrols Dubai in the United Arab Emirates on Friday.
Photo: EPA
"The aim is to reflect the reputation of the emirate and the high stature it achieved," Mazeina said.
"It will also help promote tourism and showcase the security role the Dubai police plays in safeguarding the city," he said.
The vehicles will be deployed at the downtown area near the world's tallest building, the Burj Khalifa tower, the Mohammed bin Rashid Boulevard as well as the cafe and restaurant-lined walk of the Jumeirah Beach Residence, one of the most popular waterfront developments in Dubai.
Dubai, one of seven emirates in the UAE federation, is staging a recovery from the financial crisis it suffered during the global financial crisis in 2009. The emirate recently announced several major projects, including a huge tourism and retail development with the largest shopping mall in the world.
Comments will be moderated. Keep comments relevant to the article. Remarks containing abusive and obscene language, personal attacks of any kind or promotion will be removed and the user banned. Final decision will be at the discretion of the Taipei Times.