Uighur head expresses fear for detainees after clashes
An exiled leader of China's Uighur minority said on Monday she feared for the safety of dozens of people she said were injured in recent clashes with police in the country's Xinjiang region and then detained.
Rebiya Kadeer, the US-based president of the World Uyghur Congress, said that about 70 injured Uighurs were transferred from a civilian to a military prison hospital after the violence on July 18 in the remote city of Hotan.
"They collected all of them and brought them to a military [prison] hospital. It is clear whenever an injured Uighur is brought to a military hospital, he will never be released alive," Kadeer said in an interview.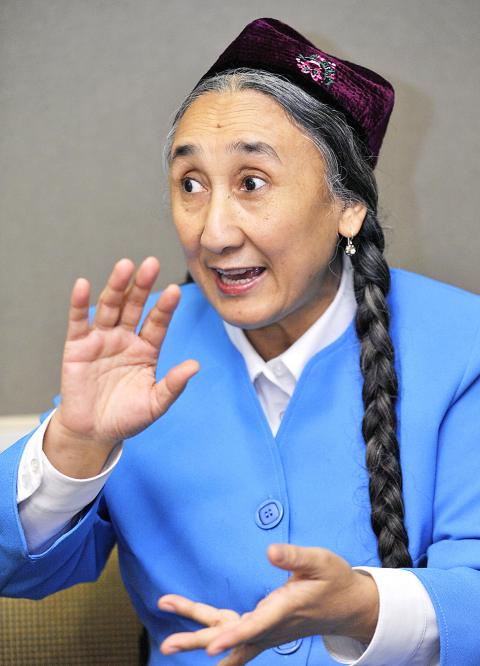 Exiled Uighur leader Rebiya Kadeer speaks to a reporter during an interview in Tokyo on Oct. 20, 2009.
Photo: AFP
Kadeer said that Uighurs have raised complaints for years about military prisons. She charged that prisoners in the past have been killed — perhaps to harvest their organs, a practice long alleged by activists.
Chinese state media said that 18 people died in Hotan, an oasis on the ancient Silk Road, in violence around a police station.
State media called it a "terrorist" attack. It said that a crowd set upon the police station and killed four and that police then "gunned down" the attackers.
Kadeer disputed the account and said that the death toll could be higher. A spokesman for her group last week told reporters that 20 protesters had been killed.
She said the Uighurs had gone to the police station and attempted to seize officers as they sought leverage to gain information on missing loved ones.
Kadeer defended the move, saying that it did not constitute violence.
"Of course I am against violence, but in this case the protesters were the ones who were attacked by Chinese police and they reacted to defend themselves. They have the right to know the whereabouts of their loved ones," she said.
"They arrest people whenever they want, they beat people whenever they want," Kadeer said.
Comments will be moderated. Keep comments relevant to the article. Remarks containing abusive and obscene language, personal attacks of any kind or promotion will be removed and the user banned. Final decision will be at the discretion of the Taipei Times.