Egypt appoints first post-Mubarak interior minister
ONWARD MARCH: Egypt shed another layer of the old guard with the appointment of Mansour el-Essawy, who will seek to restructure the country's security apparatus
Egypt yesterday named General Mansour el-Essawy as its new interior minister in a further sign that former Egyptian president Hosni Mubarak's old guard were being removed from the Cabinet.
Pro-democracy activists have demanded a purge of a Cabinet where the key portfolios of defense, justice, interior and foreign affairs have been run by appointees of Mubarak, who was swept from power by mass protests on Feb. 11.
The state news agency MENA quoted Essawy as saying his priorities included reinforcing security across Egypt. Security in the Arab world's most populous nation has been lax since the country's police forces melted away from the streets on Jan. 28.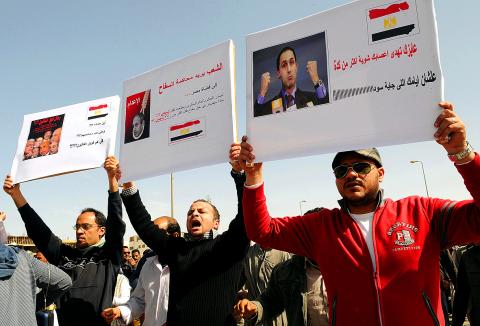 Protesters hold up signs as former Egyptian interior minister Habib al-Adly arrives on Saturday at a Cairo court for the opening of his trial for money-laundering.
Photo: AFP
Many Egyptian policemen remain reluctant to return to duty, fearing attacks by citizens still angry over clashes between demonstrators and security forces during the uprising that led to the deaths of over 300 people.
The ministry is now studying a plan to restructure the security apparatus to shore up its credibility.
Essawy's predecessor, Mahmoud Wagdy, was appointed by Mubarak after the revolt began in late January, replacing longtime Mubarak ally Habib al-Adly, but protesters demanded Wagdy's sacking too, saying he belonged to the old ruling elite.
Egyptian media reports said Essawy was previously the first deputy minister of security of Cairo and Giza governorates and a former governor of al-Minya. He was reported to be popular for his efforts to curb corruption.
In related news, once feared former interior minister Adly pleaded not guilty to corruption charges on Saturday in the first trial of a member of Mubarak's regime.
Standing in the dock and dressed in white prison clothes, Adly denied accusations of money laundering and unlawful acquisition of public money.
"It didn't happen," he said twice, in a calm tone.
Throughout the trial, dozens stood outside the Cairo criminal court to demand the death penalty for Adly, whose forces have long been accused by rights groups of torture.
Riot police surrounded the courthouse in the Tagammu Khames suburb and three army tanks were positioned at the entrance ahead of the high-profile trial.
"The people want the execution of the murderer," the protesters chanted, as others held banners depicting Adly with a noose around his neck.
The corruption case against Adly has fallen short of demands of some pro-democracy activists who want to see him tried for human rights abuses.
The former minister is currently being investigated for ordering the shooting of protesters with live bullets during 18 days of riots that brought down Mubarak.
Shortly after the start of the hearing, Judge Al-Mohammadi Qunsua adjourned the session to April 2, after a heated exchange between the defense team and civil society lawyers attending the trial.
Defense lawyer Mohammed Yussef Manaa had asked for more time to study the documents of the case and refused to comment after the trial.
Qunsua said Adly had used his position as a public servant to sell land to a contractor doing work for the ministry, in a deal worth 4.8 million Egyptian pounds (US$813,000). He also accused Adly of implication in money laundering to the tune of 4.5 million Egyptian pounds.
Ibrahim Bassiuni, a civil society lawyer volunteering for the prosecution, called on Qunsua to allow television cameras into the courtroom.
"It is the public's right to see this murderer standing in the dock," he said.
Bassiuni also said money recovered from Adly's alleged illegal deals "should be handed to the martyrs of the revolution."
Adly was arrested last month as part of a sweeping corruption investigation by the new authorities, along with several former ministers and senior members of Mubarak's National Democratic Party.
Comments will be moderated. Keep comments relevant to the article. Remarks containing abusive and obscene language, personal attacks of any kind or promotion will be removed and the user banned. Final decision will be at the discretion of the Taipei Times.