South Korea lays to rest victims of warship sinking
NO FORGIVE AND FORGET At the funeral for those killed aboard the 'Cheonan,' the navy chief of staff said the country could not sit idly by in the face of an attack
South Korea laid to rest 46 sailors killed in the sinking of a navy warship during an emotional and solemn burial yesterday, as officials vowed retaliation against those responsible for what many believe was a North Korean attack.
Wailing families placed white chrysanthemums, burned incense and bowed in front of the framed photos of the men before their cremated ashes were buried at the country's national cemetery in the central city of Daejeon. Buddhist and Christian clergy offered prayers, a navy band played a dirge and troops fired a rifle salute.
Some mothers clad in black traditional Korean mourning dress wailed uncontrollably, touching photos of their sons and their urns wrapped in white cloth.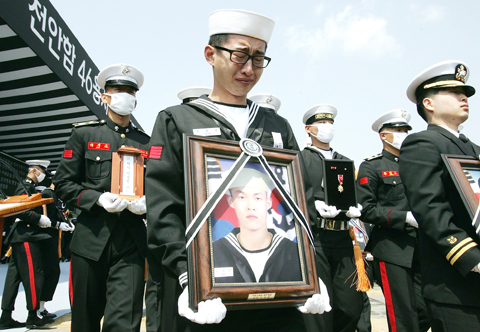 Survivors of the Cheonan sinking carry the portraits of deceased comrades during a funeral ceremony yesterday in Pyeongtaek, South Korea.
PHOTO: EPA
"It's your mother! Please answer me! Please answer me!" one mother shouted.
The sailors went down with the 1,200-tonne Cheonan near the tense western sea border with North Korea on March 26 shortly after it was split in two by what investigators believe was an underwater blast from outside the ship.
Fifty-eight people survived the disaster, and the bodies of 40 of the sailors were recovered, while six others remain unaccounted for and are presumed dead. Hair and nails from the missing were burned and those ashes were among those buried yesterday. Seamen and air force pilots in South Korea are required to submit bits of hair and nail in case they die in action and their remains cannot be recovered to ensure there is something to be buried in line with Confucian tradition.
South Korea has not directly blamed its Cold War-era rival North Korea, but suspicion has focused on Pyongyang given its history of provocations and attacks on the South. South Korea's defense minister said this week the blast was most likely caused by a torpedo attack. North Korea has denied any role.
The ship's two main pieces have been hoisted, with investigators examining them to find any clues to the cause of the blast. However, analysts such as Paik Hak-soon at the private Sejong Institute said the exact reason may never be known.
Earlier yesterday, sirens blared across South Korea when the funeral started at the 2nd Fleet headquarters in Pyeongtaek, south of Seoul, the ship's home base. Warships anchored there sounded whistles, and seamen aboard saluted when the vehicles carrying the ashes left for the cemetery. About 3,000 white and black balloons were released into the air.
A somber South Korean President Lee Myung-bak and his wife, Kim Yoon-ok — who joined 2,800 mourners at the ceremony — paid homage to the sailors, while buglers played taps. Former South Korean president Chun Doo-hwan, lawmakers and military leaders also paid respects to those who died in one of South Korea's worst naval disasters.
The name of each sailor was read out while Lee, clad in a black suit and tie, placed military decorations on a giant altar below photos of each man. They were all posthumously promoted by one rank earlier this week.
"We cannot forgive this and must not forgive it and must not forget it," Navy Chief of Staff Kim Sung-chan said in a speech at the funeral. "We will never sit idly by in the face of whoever inflicted huge pain to our people."
Military retaliation against Pyongyang, however, is considered unlikely as it could lead to major conflict and frighten away investors at a time when South Korea is recovering fast from the global financial meltdown and prepares to hold a summit of leaders from the G20 in November.
"A military response is both unrealistic and impossible," said Kim Yong-hyun, a North Korea expert at Seoul's Dongguk University. "That would further deepen military tension on the Korean peninsula."
The Cheonan was on a routine patrol before it sank near the disputed western sea border, a scene of three bloody sea battles between the rival Koreas that remain locked in a state of war since their 1950 to 1953 conflict ended in a truce instead of a peace treaty.
North Korea has waged a slew of attacks against South Korea, including a 1987 downing of a South Korean passenger plane that killed all 115 people on board, one of the reasons the country is suspected of involvement. South Korea plotted militarily retaliations in some cases, but the plans were never carried out.
In central Seoul people gathered yesterday at a plaza to remember the Cheonan sailors, placing chrysanthemums on an altar where photos of the dead were placed.
"I feel empty," said mourner Lee Yoon-suk, tears rolling down her cheeks. "I truly hope they rest in peace in heaven."
One of the pictures drew special interest as accumulated rainwater that had fallen on Tuesday and Wednesday dripped over it.
On-lookers paid their respects by wiping the water from the sailor's face, telling him not to cry.
Flags in South Korea are flying at half-staff and many government buildings in Seoul have hung large black-and-white placards reading: "We will not forget your honorable sacrifice."
Comments will be moderated. Keep comments relevant to the article. Remarks containing abusive and obscene language, personal attacks of any kind or promotion will be removed and the user banned. Final decision will be at the discretion of the Taipei Times.