FEATURE : India's traveling cinemas find few viewers
Suhas stood barefoot among a maze of wires, as a cone of grainy light from his film projector shone over the few spectators gathered in the tent.
"The crowd has thinned out," the 28-year-old said, looking at the shadowy figures cross-legged or asleep on the ground under a giant white screen held up by rope and bamboo poles.
"We used to have eight shows per day. Now it's barely half that, even at peak times. I don't know anything other than running the projector. I don't know what I will do if the business goes to the wall," he said.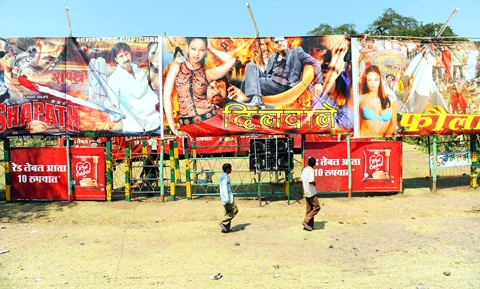 Children walk past the tent of Anup Touring Talkies traveling cinema at Shikhar Shingnapur, about 350km south of Mumbai, India, on March 23.
PHOTO: AFP
Suhas, who uses only one name, isn't the only one in a bleak mood.
Others are also talking about the end of the "touring talkies," the traveling cinema companies that have brought low-cost entertainment to Indian villages since the days of silent movies and black-and-white.
"Today we see dinosaurs only in books," Suhas' boss, Anup Ashok Jagdale, who runs Anup Touring Talkies, told reporters. "When the next generation grows up in four to five years, talkies will have gone the same way as the dinosaurs."
The mud-brick houses of Shikhar Shingnapur in southwest Maharashtra are 350km from the bright lights of India's cosmopolitan entertainment capital, Mumbai.
The nearest permanent cinema — a single-screen affair — is in Satara, about 70km or two hours' drive away on a winding road with an irregular bus service.
However, for two weeks every year between October and April, places like these can see Hindi-language Bollywood blockbusters, action flicks, love stories and even dubbed Hollywood releases.
Six of the 10 traveling cinema firms in western Maharashtra have pitched their tents on open ground, hoping for passing trade from the hundreds of thousands of Hindu pilgrims who have come to town for a religious festival.
Competition can be fierce. Each film is prominently advertised on colorful posters. Announcers publicize the shows over loud speakers, often talking over one another. Loud Bollywood music blares constantly.
The pink paper tickets sell for 15 rupees to 20 rupees (US$0.33 to US$0.44) each. Shows run every three hours, 24 hours a day.
"I never miss out on an opportunity to go to the talkies," Manisha Damble, 51, said. "It's the only chance I get for time off from the family. Going to town for a movie is an eight to 10-hour round-trip for me.
"This saves time as it's on the pilgrimage route," Damble said.
Govardhan Suryavanshi, 35, is just curious.
"It's my first pilgrimage and I wanted to see what it's like to watch a film in a tent. I thought it would be fun," he said.
Bollywood is taking a nostalgic look at traveling cinema, whose sweltering tents and basic facilities contrast with the air-conditioned multiplexes springing up in cities.
The film Road, Movie starring Abhay Deol follows a motley cast of characters as they roam the Indian countryside in a battered, old truck that used to carry equipment for the touring talkies.
Deol's character, Vishnu, is loosely based on Jagdale.
In real life, the golden age of the touring talkies has passed.
"Rates have gone up and audiences have gone down," said Sheikh Mohammed, 36, who runs Sumaid Talkies.
Daily takings of 10,000 rupees to 15,000 rupees have hardly changed in 20 years, but the cost of diesel to run the generators that power the projectors, staff overheads and land permits have all risen.
"Cable TV and pirated CDs have also made life difficult for us because crowds see the movies even before we put them on," Jagdale said.
Add to that Internet expansion into rural areas or video-enabled 3G mobile phones and the touring talkies may soon grind to a halt.
Mohammed and Jagdale hope advertisers appreciate the chance to target women, who make up the majority of audiences and who often hold the domestic purse strings in rural India.
However, the odd advert for soap or tea isn't enough, they said.
"If money doesn't come in, we're going to have to fold very soon," Jagdale said.
Comments will be moderated. Keep comments relevant to the article. Remarks containing abusive and obscene language, personal attacks of any kind or promotion will be removed and the user banned. Final decision will be at the discretion of the Taipei Times.