Earthquake rocks Turkey, 57 dead
AND COUNTING The magnitude 6 temblor struck at 4:32am when most people were asleep, followed by 20 aftershocks, the largest of which measured 4.1
A strong earthquake, with a preliminary magnitude of 6, hit eastern Turkey yesterday, knocking down houses in three small villages and killing at least 57 people, an official said.
Mayor Bekir Yanilmaz, of the nearby town of Kovancilar, said the victims were from the villages of Okcular, Yukari Kanatli and Kayali, where the quake toppled stone or mud-brick homes and the minarets of mosques.
The government's crisis center said 60 people were also injured in the quake, which occurred at 4:32am in Elazig Province and caught many people in their sleep.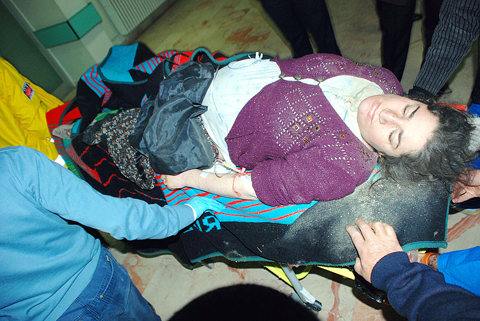 Rescue teams carry a woman after the earthquake in Elazig, Turkey, yesterday.
PHOTO: AFP
It was centered near the village of Basyurt, and was followed by more than 20 aftershocks, the ­strongest measuring 4.1, Istanbul's Kandilli Observatory seismology center said.
CNN-Turk television said the dead included four young sisters trapped in the rubble. Rescue workers were trying to pull out one other person from debris in Okcular village, it said.
"Everything has been knocked down, there is not a stone in place," said Yadin Apaydin, administrator for the village of Yukari Kanatli, where he said three villagers died.
The quake was felt in neighboring provinces of Tunceli, Bingol and Diyarbakir, where residents fled to the streets in panic and spent the night outdoors.
Some of the injuries occurred during the panic, when people jumped from windows or balconies. Dogan news agency footage showed people bringing in the injured to hospitals by cars and taxis.
Television footage showed rescue workers and soldiers at Okcular lifting debris as villagers looked on.
Turkey's Red Crescent organization began setting up tents in the region.
Elazig is 550km east of Ankara, the capital. Earthquakes are frequent in Turkey, much of which lies atop the North Anatolian fault. In 1999, two powerful earthquakes struck northwestern Turkey, killing about 18,000 people.
Comments will be moderated. Keep comments relevant to the article. Remarks containing abusive and obscene language, personal attacks of any kind or promotion will be removed and the user banned. Final decision will be at the discretion of the Taipei Times.