Yemeni official says US troops not wanted
DISTRUST The government in Yemen is balancing help from the US military in its fight against al-Qaeda and the innate distrust of the population toward Americans
As Yemen becomes the new front in the war on terror, its leaders want this to be clear: It does not intend to become another Iraq or Afghanistan with thousands of US troops on the ground.
Yemeni Foreign Minister Abu Bakr al-Qirbi drew some red lines on Wednesday in its burgeoning alliance with Washington against al-Qaeda, saying that Yemen welcomes US and foreign troops for training, intelligence and logistical support.
"But not in any other capacity," he said, adding that "there is a lot of sensitivity" among Yemenis about foreign combat troops.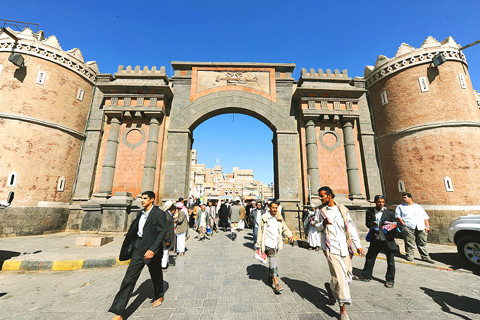 People are pictured at the entrance of the Old City of Sanaa, Yemen, yesterday.
PHOTO: EPA
He underlined that Yemeni forces would remain under Yemeni command, without any joint authority with the Americans.
His comments came as Yemeni security forces carried out a hunt for Mohammed Ahmed al-Hanaq, the suspected leader of an al-­Qaeda cell believed to be plotting attacks on the US embassy or other consulates in Yemen. While troops searched in the mountainous region of Arhab northeast of San'a where he was hiding, officials were negotiating with local tribal sheiks, demanding al-Hanaq's surrender.
Washington and San'a are still feeling out how far they can go in their newly intensified partnership against al-Qaeda, whose fighters have dug roots into the mountains of the impoverished Arab nation and now, the administration of US President Barack Obama says, present a global threat.
Military personnel from the US and other Western countries are already on the ground helping train Yemeni counterterror units and exchanging intelligence, and Washington and the UK are ramping up aid, pouring in tens of millions of dollars to build up the security forces.
Yemen's government has been weakened by wars, poverty and its own misrule and corruption. Central authority barely extends beyond the capital, and heavily armed tribes control large areas. Many tribes are bitter toward San'a and some give refuge to al-Qaeda fighters.
The US says the group in ­Yemen, known as al-Qaeda in the Arabian Peninsula, trained and provided the explosive materials for the 23-year-old Nigerian accused of trying to blow up a US passenger jet heading to Detroit on Christmas Day. This week, the US and other Western countries temporarily closed their embassies in San'a after threats of a terrorist attack surfaced. The move was criticized by al-Qirbi.
Comments will be moderated. Keep comments relevant to the article. Remarks containing abusive and obscene language, personal attacks of any kind or promotion will be removed and the user banned. Final decision will be at the discretion of the Taipei Times.