US special envoy in Seoul ahead of North Korea trip
US President Barack Obama's special envoy held last-minute discussions on his upcoming trip to North Korea, huddling yesterday with South Korean officials over how best to bring Pyongyang back to international nuclear talks, a Seoul official said.
Stephen Bosworth's three-day visit to Pyongyang starting today will include the first formal bilateral talks between the US and the North since Obama took office in January.
The two countries last met one-on-one on the sidelines of now-stalled six-nation nuclear talks in Beijing last December.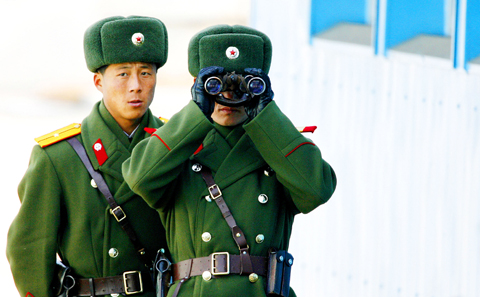 North Korean soldiers stand guard as Canadian Prime Minister Stephen Harper (not pictured) visits the truce village of Panmunjom in the demilitarized zone separating the two Koreas yesterday.
PHOTO: REUTERS
Bosworth yesterday met South Korea's chief nuclear envoy, Wi Sung-lac, to discuss the trip. He told Wi that the US intentionally decided to start the North Korea trip from South Korea — a remark seen as meaning that the two allies are working closely together.
"It's not an accident. We intended that," Bosworth told Wi at the start of their meeting.
South Korean Foreign Ministry spokesman Moon Tae-young said various issues were discussed at the meeting, aimed at achieving the goal of Bosworth's trip: bringing North Korea back to the nuclear negotiating table and getting the regime to recommit to denuclearization.
"For now, it is difficult to predict the outcome of his trip," Moon said. "We hope there will be good results, including North Korea's return" to the six-nation nuclear talks involving China, Japan, the two Koreas, the US and Russia.
Moon said Bosworth also met South Korean Foreign Minister Yu Myung-hwan and presidential security adviser Kim Sung-hwan.
Bosworth is scheduled to fly to the North from a US air base near Seoul. While in Pyongyang, he is expected to meet First Vice Foreign Minister Kang Sok-ju — the country's top nuclear strategist and leader Kim Jong-il's chief foreign policy brain — South Korea's Yonhap news agency said.
North Korea has pushed for direct talks with the US since it pulled out of the nuclear negotiations in protest of international criticism of a rocket launch in April. The North claims it was compelled to develop atomic bombs to cope with what it calls "US nuclear threats."
The US, which denies making any threats, has said it is willing to engage the North in direct discussions, but has stressed they must lead to an end of Pyongyang's boycott of the six-party talks.
Professor Kim Yong-hyun of Seoul's Dongguk University cautioned against high expectations.
"Realistically speaking, it's difficult to make breakthroughs in all issues in just one meeting," he said.
The North Korea expert said he would call it a success if Pyongyang agreed to return to six-party talks early next year, but added, "Even if the two sides end the talks only after putting forward their cards, I don't think it's a failure."
Bosworth has shunned the media since arriving in Seoul on Sunday.
Upon arrival at Incheon International Airport, west of Seoul, he took a car from the tarmac without speaking to reporters. Journalists were allowed to see the opening of his meeting with Wi.
After his trip to North Korea, the US envoy is to return to Seoul then travel on to Beijing, Tokyo and Moscow before flying back to the US next week, the State Department said.
As Bosworth arrived at the Foreign Ministry building in Seoul for talks with South Korean officials, about a dozen anti-US activists rallied outside to urge the envoy to launch negotiations with the North on forging a peace treaty.
The US fought alongside South Korea in the 1950 to 1953 Korean War that ended in a truce, not a peace treaty, leaving the divided peninsula still technically at war.
Comments will be moderated. Keep comments relevant to the article. Remarks containing abusive and obscene language, personal attacks of any kind or promotion will be removed and the user banned. Final decision will be at the discretion of the Taipei Times.