Dalai Lama launches 'peace summit' in Vancouver
Tibet's exiled spiritual leader the Dalai Lama opened a two-day "peace summit" in Vancouver on Sunday, urging an audience of some 1,200 people to nurture a spirit of "warm-heartedness" to help foster world peace.
The conference was organized by the Dalai Lama Center for Peace and Education and comes during his two-week visit to the US and Canada.
The Dalai Lama said the media needs to remind people that compassion and caring exist in the world as well as violence: "The media too often sensationalizes the bad things, which spreads a view that for we human beings, human future is doomed."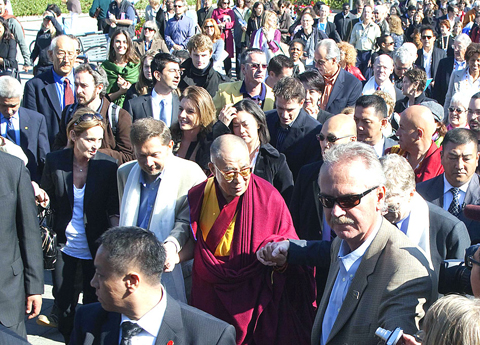 The Dalai Lama is surrounded by people as he walks to a luncheon at the University of British Columbia in Vancouver, Canada, on Sunday.
PHOTO: REUTERS
Also making an appearance at the event are writer Eckhart Tolle, California's first lady Maria Shriver, activist Jody Williams, former Irish president Mary Robinson and others from the world of government, education and philanthropy.
South African Archbishop emeritus Desmond Tutu, who was unable to attend because of a back injury, sent a video message reminding attendees "that war, poverty, violence are not the whole picture, the whole story, about us, in fact they are aberrations."
Comments will be moderated. Keep comments relevant to the article. Remarks containing abusive and obscene language, personal attacks of any kind or promotion will be removed and the user banned. Final decision will be at the discretion of the Taipei Times.