Doubts grow about death of terror chief
'IT'S NOT HIM' A police source said that fugitive terror suspect Noordin Mohammed Top may have escaped from a farmhouse before a police siege on Friday
Fingerprint analysis has confirmed that a man killed by Indonesian police at the weekend was not fugitive terror suspect Noordin Mohammed Top, a counter-terror police officer said yesterday.
Officials were publicly sticking to their line that only DNA tests would confirm the identity of the body but a source involved in the investigation said Noordin remained at large.
"It's not him. We know from his facial structure as well as his fingerprints," the police source said, requesting anonymity.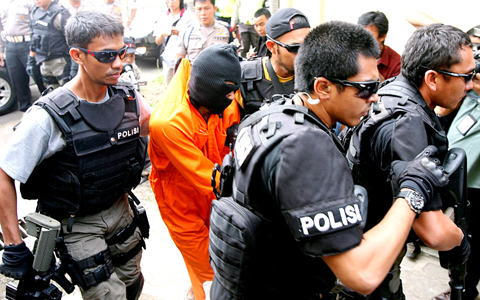 Police escort a terrorist suspect, second left, at police headquarters in Kelapa Dua, Depok, West Java, Indonesia, yesterday.
PHOTO: EPA
"We're continuing to track his whereabouts," the source said.
Noordin was reported by the local media to have been shot dead by police at the end of a 17-hour siege of a remote farmhouse in Central Java on Saturday.
Senior counter-terrorism official Ansyad Mbai refused to comment on the identity of the body retrieved from the farmhouse, saying DNA tests would confirm whether it was Noordin or not.
"It's better that we wait for the forensic identification," he said.
Noordin, 40, is a Malaysian Islamist who is wanted for multiple suicide bombings against Western targets in Indonesia since 2003 which have killed about 50 people and injured hundreds.
He is one of the most wanted alleged terror masterminds in Asia, and has a US$100,000 bounty on his head from the Indonesian government.
The police source indicated that Noordin may have escaped from the farmhouse before police laid siege to it about 4pm on Friday.
"We were not as quick as him," he said.
Police have come close to arresting the Malaysian, who leads a breakaway faction of the Jemaah Islamiyah regional terror network, several times and have captured or killed some of his closest associates.
They have intensified the hunt since the July 17 twin suicide bombings on the JW Marriott and Ritz-Carlton hotels in the capital, which killed seven people including six foreigners plus the two bombers.
Five of Noordin's alleged accomplices have been arrested in recent days and two men described by police as would-be suicide bombers were killed in a raid that uncovered a major bomb factory in Bekasi, outside Jakarta.
Police said the would-be bombers had rigged a small truck as a bomb and were planning to launch a suicide attack against Indonesian President Susilo Bambang Yudhoyono's main residence, which is a 12-minute drive away.
The attack, timed around Indonesia's Independence Day on Aug. 17, had been ordered by Noordin during a meeting on April 30 as revenge for the execution of three men convicted over the 2002 Bali bombings that killed 202 people.
Comments will be moderated. Keep comments relevant to the article. Remarks containing abusive and obscene language, personal attacks of any kind or promotion will be removed and the user banned. Final decision will be at the discretion of the Taipei Times.