Kyrgyzstan cracks down on protests over election
Police cracked down on protests in Kyrgyzstan yesterday, with the opposition saying at least 142 people were detained in rallies against a "stolen" election in the volatile Central Asian country.
The swift response indicated that the Kyrgyz government would not tolerate street actions pledged by the opposition, which has alleged massive fraud in the landslide re-election victory of President Kurmanbek Bakiyev.
It was also the latest episode in a long-running history of political instability in Kyrgyzstan, an impoverished ex-Soviet republic which is home to a key US military base.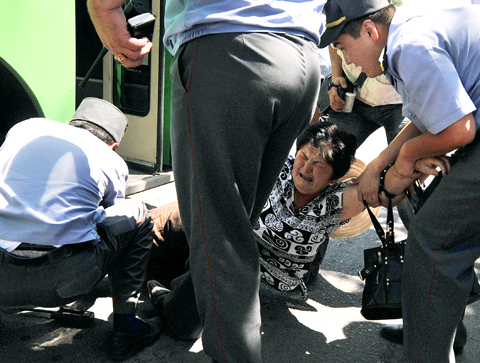 Police detain opposition supporters during a rally in Bishkek, Kyrgyzstan, yesterday.
PHOTO: AFP
In one protest in the Kyrgyz capital Bishkek, opposition supporters shouted slogans such as "Return the stolen power!" and were about to march on the presidental palace when police moved in, an Agence France-Presse (AFP) journalist witnessed.
Protesters were dragged away into buses. Police also attempted to detain the AFP journalist, apparently confusing her for one of the protesters.
The protesters "were detained today for violations of public order. They did not have permission to carry out the march and the meeting in Bishkek," said Gulya Kozhamkulova, prosecutor for the city's Lenin district.
Opposition spokesman Ulan Manayev said that the march was a "peaceful protest" and put the number of people arrested there at 80.
Initial reports said 200 people were arrested at the march, but Manayev said that many people there turned out to be plainclothes police masquerading as demonstrators, who helped arrest opposition supporters.
A total of 142 people were arrested at various protests in and around Bishkek, Manayev said, adding that other people were being arrested at protests throughout the country.
The number could not be immediately confirmed with the authorities.
The demonstrators were supporters of Almazbek Atambayev, the main opposition candidate in last Thursday's disputed election in the ex-Soviet republic. Incumbent president Bakiyev won the election with 76.43 percent of the vote compared with 8.39 percent for Atambayev, according to official results that are disputed by the opposition.
Western observers from the Organization for Cooperation and Security in Europe also criticized the election, citing widespread irregularities.
Impoverished Kyrgyzstan has a history of political unrest. Bakiyev himself came to power after a popular uprising in 2005 that ousted his predecessor, Askar Akayev.
Comments will be moderated. Keep comments relevant to the article. Remarks containing abusive and obscene language, personal attacks of any kind or promotion will be removed and the user banned. Final decision will be at the discretion of the Taipei Times.