War was boring, Great War survivor says
Britain's last surviving World War I veteran has shrugged off his achievement and even described the conflict as boring, a report said yesterday.
Claude Choules, 108, who lives in a nursing home in Perth, Australia, reacted calmly when told he had become Britain's only survivor from the 1914 to 1918 war.
"Everything comes to those who wait and wait," he told the Australian newspaper.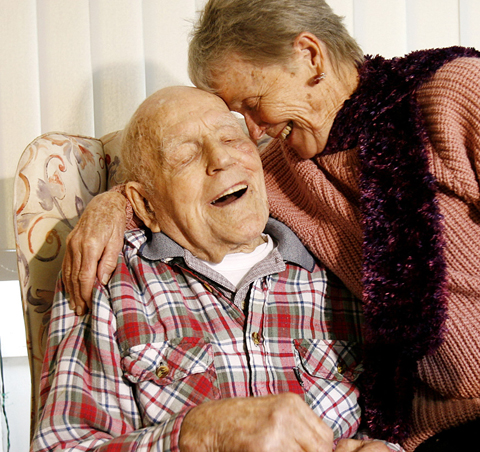 Claude Choules, 108, the last surviving British serviceman to see conflict in World War I, is hugged by daughter Anne Pow, 80, in Perth, Australia, on Sunday.
PHOTO: AFP
Choules was informed by his 80-year-old daughter Anne Pow over the weekend that the death of 111-year-old Harry Patch, Britain's last soldier who fought in the Great War's infamous trenches, had made him the country's sole survivor.
Patch's death, a week after that of fellow veteran and world's oldest man Henry Allingham, 113, prompted a national outpouring of grief in Britain.
Choules served on HMS Revenge during a 41-year naval career which spanned both world wars, witnessing the surrender of the German Imperial Navy in 1918 and the scuttling of the fleet in Scapa Flow, the newspaper said.
He was seconded to the Australian navy in 1926 and remained in the force for 30 years.
However, Pow said her father had always said war was mostly very tedious punctuated by moments of extreme danger.
Comments will be moderated. Keep comments relevant to the article. Remarks containing abusive and obscene language, personal attacks of any kind or promotion will be removed and the user banned. Final decision will be at the discretion of the Taipei Times.