FEATURE : Slum tours provide hard dose of reality
Gridlocked traffic, filthy rivers, air that tastes of diesel — there is much that keeps Indonesia's capital Jakarta off the global tourist map.
But for broke filmmaker Ronny Poluan, there is plenty of interest amid the squalor of a city of up to 12 million people, where nearly half the population lives in slums jammed between shopping malls and luxury homes.
Poluan's "Jakarta Hidden Tours," running more or less regularly since last year, take small paying groups of foreigners to the city's warrens, riverbanks and rail lines to meet those whom he calls "the real people."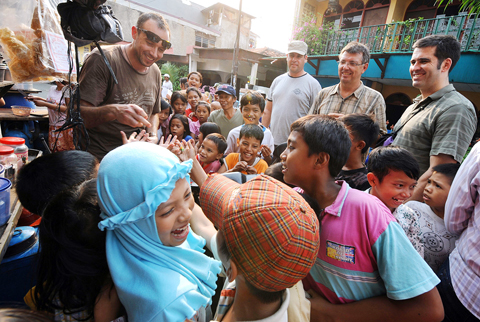 Australian tourist Gavin Sharpe, left, hands candies to children living in a slum area in Jakarta, Indonesia, during a "Jakarta Hidden Tours" tour on May 22.
PHOTO: AFP
Wizened 53-year-old Sana is one of them. Standing near a shack built on the edge of the tracks, she tells a group of half a dozen Australians about the local slum dweller's weekly dance with the authorities.
Friday to Sunday, Sana said, the rows of shacks that spread off into the horizon are home. But between Monday and Thursday, officials move in, dismantling the homes and sending locals to sleep in the open.
"If we don't hurry they take our things," she said.
It may not be pleasant to look at, but Poluan says the tour is important for spreading understanding. And it is not the first of its kind.
"Poverty tourism," as it is often disparagingly known, is a growing trend from the favelas of Brazil's Rio de Janeiro to the Soweto township in South Africa's Johannesburg.
Poluan said the Jakarta tours evolved independently out of informal introductions he had been giving to visiting foreign artists for more than a decade. He only recently found out about slum tours in other countries.
"After I gave one of the tours somebody mentioned these other tours, so I Googled and found out about Mumbai, the favelas, Soweto. I don't know if this is the same or different," he said.
Starting at 350,000 rupiah (US$34) a head for half a day, the tours are hardly cheap. And while Poluan says he takes around 50,000 rupiah for himself and a similar amount for his non-governmental organization, Interkultur, most goes to local people.
But this cash-in-hand approach has plenty of critics. Wardah Hafidz, who heads Jakarta's Urban Poor Consortium advocacy group, says this is exactly the wrong approach.
"It creates more problems for us than it helps," Hafidz said.
"If you come with money then it's a complete language of money. It doesn't develop the understanding [among the poor] that they are powerful, that they can help themselves," she said.
Poluan, and many of his guests, are convinced they are doing good just by being there.
Entering Jakarta's Galur slum, Poluan takes his tour group through deepening circles of privation. At the outer edge, tourists drink Fanta in the stifling heat of the home of Rumidja, a pint-sized, 69-year-old grandmother who lives cramped alongside 14 other people.
She poses excitedly with the foreigners and complains of pains and lost sleep, and worries about how to pay for her granddaughter's education. She shows off photos of herself as a much fatter teenager.
It is this contact with the everyday, rather than unmitigated suffering, that impresses Australian Martin Roach, a 39-year-old who makes his living in share trading and poker tournaments: "Many of the things she's worrying about are the same as us."
But moving deeper into the slum, head-high mounds of rubbish appear with increasing frequency and spill into creeks and canals running beneath the shacks.
The tour stops to peer into a series of cavernous rooms where slum dwellers make tofu by burning scrap wood under concrete vats. In one room, a barefoot man climbs on a sack of tofu, squeezing it with his body weight. In another, cracks in the roof shed light on soot so thick it hangs off the roof beams in furry tendrils meters long.
By the time the group reaches the train tracks where Sana has her weekly conflict with the city, the mood darkens. Upset by what they see, some in the group kick off an impassioned debate with Poluan, arguing for the right to give money to anyone they come across in the slum.
"You can pass the other stuff as okay, it's reduced from our lifestyle [but] they're happy. The people on the railway lines, that's not okay," Larry Stringer, 54, said.
It may be unsettling at times, but coming face to face with the reality of poverty is an important step in getting rich Westerners to see the poor as equals, says Robert Finlayson, from Volunteering for International Development from Australia, who helps Poluan run the tours.
"Guilt is like pity, it stops you from seeing people as they actually are, as normal human beings," Finlayson said. "What we wanted to do is say: 'What you're seeing is poverty, you're not actually seeing people. People are the same all over the world, whether they have a penis gourd on or a three-piece suit with a gold watch chain.'"
Comments will be moderated. Keep comments relevant to the article. Remarks containing abusive and obscene language, personal attacks of any kind or promotion will be removed and the user banned. Final decision will be at the discretion of the Taipei Times.