Edison Chen testifies in stolen photos trial
MOUNTAIN GOES TO MOHAMMED The former actor/singer refused to return to Hong Kong for the trial, so Chief Magistrate Tong Man and a team flew to Canada
Edison Chen (陳冠希) was shocked when he found his own sex photos posted on the Internet, the Chinese-Canadian pop star told a Vancouver court on Monday.
The Chinese-Canadian film star in a racy scandal over photos that showed him in bed with eight of Hong Kong and China's best-known actresses and singers testified against Sze Ho-chun, a computer technician accused of accessing his private laptop, which held the images.
The scandal dominated Hong Kong headlines for weeks last year, and the Chinese government censured the country's top Internet search engine for allegedly helping spread the photos of the stars apparently performing sex acts or in sexually suggestive poses.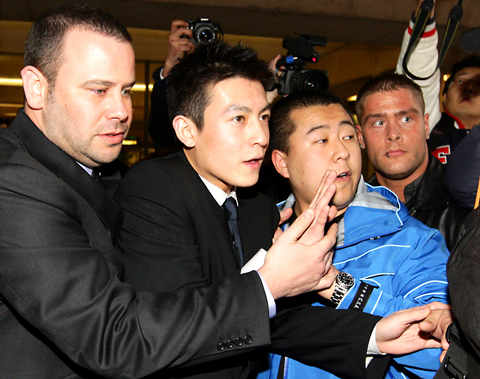 Film star Edison Chen, second left, is surrounded by security guards as he leaves British Columbia Supreme Court in Vancouver on Monday after testifying in the Hong Kong trial of computer technician Sze Ho-chun.
PHOTO: AP/THE CANADIAN PRESS
Sze faces three counts of obtaining access to a computer with illegal intent and his trial is taking place in Hong Kong. Chen refused to return to the territory for the case but he agreed to a deposition in Canada.
The Hong Kong Department of Justice flew a legal team, including Hong Kong Chief Magistrate Tong Man (唐文), to Vancouver. The hearing was scheduled for a week but wrapped up in just a day.
The Hong Kong judiciary is allowed to take testimony in Canada under a mutual legal assistance treaty and Chen's testimony will be presented in the Hong Kong case as a deposition.
Chen, 27, told the unusual hearing the photos were his, but that they had been on a personal laptop computer that had gone missing last year. He said that the computer was taken for repairs in the summer of 2006. He said he thought he had deleted the images from the computer.
He said he believed they were released by "some foul play" in a computer store he used.
"I'm quite a private person," he said. "This was never meant for anyone else to see."
On Jan. 29 last year he said his friends started contacting him about the images circulating on the Internet.
"This was a very huge shock to me," Chen told the court.
A month later, a police inspector showed him a compact disk of photographs.
"Of course, I had seen these pictures. I took these pictures. They were in my personal computer," he said.
He said the images were released in spurts.
"It was more of an attack, a well-planned attack in the way these images were released," he said.
Chen called the theft of the photos an "invasion of privacy."
"Everything was consensual," he said.
He told the judges that he would not answer questions about the women.
"I am determined to protect their innocence," he said. "They have suffered enough."
A reluctant Chen was ordered by the Canadian judge to confirm the identities of some women in the pictures. They are actress Cecilia Cheung (張柏芝), actor-singer Gillian Chung (鍾欣桐), former actress Bobo Chan (陳文媛) and model-actress Rachel Ngan (顏穎思).
Chen, a Vancouver native of Portuguese-Chinese parents, returned to Canada last year in the face of intense public anger in China.
Comments will be moderated. Keep comments relevant to the article. Remarks containing abusive and obscene language, personal attacks of any kind or promotion will be removed and the user banned. Final decision will be at the discretion of the Taipei Times.