Palin makeup artist paid more than policy adviser
SPEND, BABY, SPEND The celebrity makeup artist was paid US$22,800 for the first two weeks of this month, while McCain's foreign policy adviser received US$13,200
An acclaimed celebrity makeup artist for Republican vice presidential candidate Alaska Governor Sarah Palin collected more money from Senator John McCain's campaign than his foreign policy adviser.
Amy Strozzi, who works on the reality show So You Think You Can Dance and has been Palin's traveling stylist, was paid US$22,800, according to campaign finance reports for the first two weeks of this month. In contrast, McCain's foreign policy adviser, Randy Scheunemann, was paid US$12,500, the report showed.
McCain's campaign said the payment covered a portion of her work in last month and this month. An earlier campaign finance report showed Strozzi was paid US$13,200 for a portion of last month.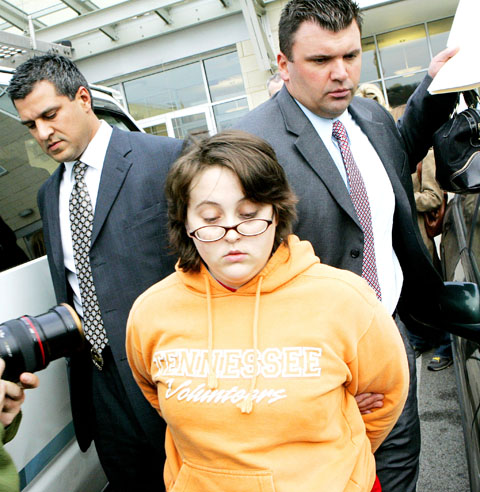 Ashley Todd, a 20-year-old college student from College Station, Texas, with a faint backward "B" on her cheek, is led from Pittsburgh police headquarters by detectives in Pittsburgh on Friday.
PHOTO:AP
In recent days, McCain and his running mate have tried to douse a furor over how their side spent their money. The Republican National Committee (RNC) came under scrutiny after the party committee reported earlier this week that it had spent about US$150,000 last month on wardrobe and cosmetics from high-end department stores like Saks Fifth Avenue and Neiman Marcus after Palin joined the Republican ticket.
The purchases offered a stark contrast to Palin's image as a "hockey mom" who calls herself part of an average, middle-class US family.
"Those clothes are not my property. We had three days of using clothes that the RNC purchased," Palin told Fox News in an interview that aired on Thursday night.
"If people knew how Todd and I and our kids shop so frugally. My favorite shop is a consignment shop in Anchorage, Alaska, called Out of the Closet. And my shoe store is called Shoe Fly in Juneau, Alaska. ... It's not, you know, Fifth Avenue-type of shopping."
In one shopping spree for Palin, the RNC spent US$75,062 at Neiman Marcus in Minneapolis. It also spent US$49,425 at Saks Fifth Avenue and US$4,902 at Atelier, a stylish men's store, and paid US$92 for a romper and matching hat with ears for her infant son, Trig, at Pacifier, a Minneapolis baby store.
There was no evidence of additional clothing purchases.
The Obama campaign has said it paid for hair and makeup costs associated with interviews or events, but neither the campaign nor the Democratic National Committee has paid for clothing.
Comments will be moderated. Keep comments relevant to the article. Remarks containing abusive and obscene language, personal attacks of any kind or promotion will be removed and the user banned. Final decision will be at the discretion of the Taipei Times.