Keep strong nuke pact: Gorbachev
STABILITYL: The former Soviet leader said two pacts that he signed with US presidents, the Intermediate-Range Nuclear Forces Treaty and START, need to be maintained
Former Soviet president Mikhail Gorbachev said on Tuesday a pillar of the arms control system could fall if Washington and Moscow replace the landmark START nuclear arms reduction treaty with a less formal pact.
The START treaty, signed in 1991, set ceilings on the size of the Russian and US nuclear arsenals and became a symbol of the end of the Cold War. Washington has indicated it will not extend it in 2009 but wants to replace it with a pact that eliminates strict verification requirements and weapons curbs.
"I don't see a negotiating process actually happening," Gorbachev, who signed the START treaty with then-president George Bush, told a Harvard University forum entitled "Overcoming Nuclear Danger."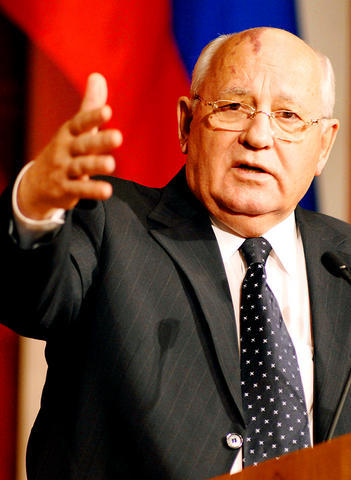 Former Soviet president Mikhail Gorbachev speaks at a forum at the Kennedy School of Government at Harvard University on Tuesday in Cambridge, Massachusetts.
PHOTO: AP
The conference at the John F. Kennedy School of Government assembled dozens of experts from the US, Russia and other nations for discussions on minimizing the risks of nuclear terrorism and nuclear war.
Diplomatic analysts have said a US position on START reflects US President George W. Bush's practice of repudiating arms control as a means of curbing nuclear weapons while relying more on measures like export controls, interdiction and sanctions.
Russia has said the treaty should be replaced with a formal, binding pact, and not an informal arrangement.
Gorbachev said verifying and inspecting each country's nuclear arsenals was crucial.
"It is totally wrong to declare that this system is obsolete and unnecessary after the end of the Cold War," he said. "It is totally wrong."
Gorbachev also said another milestone arms control pact, the Intermediate-Range Nuclear Forces Treaty (INF) which he signed with former US president Ronald Reagan in 1987, must be preserved.
In an interview, he said he disagrees with Russian President Vladimir Putin and others who have called the treaty outdated and suggested that Moscow should consider pulling out of it.
The treaty banned the entire class of medium-range missiles.
"All of these treaties constitute a system, a structure, that maintained a certain stability ... but this is something that should continue to work," Gorbachev said. "It's not some kind of scrap and it's not some kind of old goods to be sold."
Comments will be moderated. Keep comments relevant to the article. Remarks containing abusive and obscene language, personal attacks of any kind or promotion will be removed and the user banned. Final decision will be at the discretion of the Taipei Times.