Turkey's Gul vows action against Kurdish fighters
MILITARY OFFENSIVE Turkish warplanes reportedly attacked Kurdistan Workers' Party positions along the Iraqi border as the government mulls a cross-border raid
A high-level Iraqi delegation was expected to visit Ankara yesterday after Turkey's top leadership recommended the government take economic measures to force Iraqi cooperation against Kurdish rebels and Turkey considered a possible military cross-border offensive.
Turkish warplanes reportedly pounded rebel positions along the border. An AP Television News cameraman standing at the Habur border crossing saw a pair of warplanes flying from northern Iraq back into Turkey. It was not clear whether the planes were on a reconnaissance mission.
Several F-16 warplanes were seen taking off from an air base in the southeastern city of Diyarbakir earlier Thursday, local reporters said.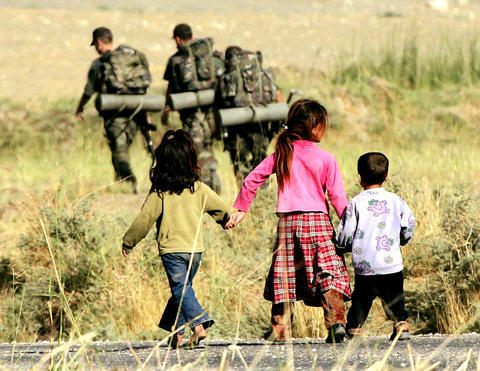 Three children walk behind a group of Turkish soldiers on patrol in Sirnak Province near the Turkey-Iraq border yesterday. Turkish warplanes and helicopter gunships reportedly attackedeKurdish rebel positions along the border area yesterday.
PHOTO: AP
Turkey has threatened to stage an incursion into northern Iraq if Iraqi Kurds and US-led coalition forces do not crack down on Kurdish rebels.
"Turkey is running out of patience and will not tolerate the use of Iraqi soil for the purpose of launching terrorist activities," President Abdullah Gul said yesterday in a speech opening the Black Sea Economic Cooperation Organization foreign ministers' meeting in Ankara. "We are totally determined to take all the necessary steps to end this threat."
A Kurdish rebel ambush near the border killed 12 soldiers on Sunday. Eight soldiers have been missing since then; the rebels say they are holding them and have distributed photographs and video footage.
The Iraqi delegation will be headed by the Defense Minister Abdul-Qader al-Obeidi and will include Minister of State for National Security Sherwan al-Waili, said Yassin Majid, an adviser to Iraqi Prime Minister Nouri al-Maliki.
"It will discuss all issues between the two countries. The political choice will be the first solution to solve the crisis. The Iraqi government insists on dialogue and cooperation to solve the crisis," he said.
Iraq has already promised to shut down offices used by rebel bases. But Turkey wants Iraq and US forces to destroy rebel bases and extradite the rebel leadership to Turkey.
Turkish Foreign Minister Ali Babacan said Turkey is "expecting them to come with concrete proposals and otherwise the visit will have no meaning."
Turkey's military and civilian leaders on Wednesday urged the government "to first take necessary economic measures against those groups directly or indirectly supporting the separatist terrorist organization in the region."
The self-ruling Kurdish administration in Iraq's north relies heavily on Turkish investment, mainly for construction works, including the building of roads, hospitals and infrastructure.
Ankara is also selling electricity to northern Iraq, and most food sold in markets come from Turkey. The Turkish trade minister said on Wednesday that economic sanctions could be taken.
Turkey's military and civilian leaders face growing demands at home to stage the offensive in northern Iraq, where the rebels of the Kurdistan Workers' Party (PKK), rest, train and get supplies before returning to Turkey.
Troops yesterday were seen using mine detectors against roadside rebel bombs as they patrolled near the town of Yuksekova in Hakkari Province, bordering Iraq and Iran, the TV crew reported.
Troops have killed 231 Kurdish rebels in clashes since Jan. 1, the state-run Anatolia news agency reported yesterday. It did not say how many soldiers were killed in the clashes in the same period but around 30 soldiers were ambushed and killed this month alone. Security forces have also seized more than 50 tonnes of dynamite and plastic explosives from suspected rebels in the same period, Anatolia reported.
Comments will be moderated. Keep comments relevant to the article. Remarks containing abusive and obscene language, personal attacks of any kind or promotion will be removed and the user banned. Final decision will be at the discretion of the Taipei Times.