Shinzo Abe praises two controversial Indian figures
Japanese Prime Minister Shinzo Abe yesterday voiced admiration for two controversial Indians who stood up to colonial ruler Britain during World War II and sided with Tokyo.
Abe visited the eastern city of Kolkata to meet relatives of nationalist Subhash Chandra Bose, who advocated violent resistance and backed imperial Japan, and Radhabinod Pal, the sole judge who dissented at the Allied tribunal that condemned to death wartime Japanese leaders.
"Many Japanese have been moved deeply by such persons of strong will and action of the independence of India like Subhash Chandra Bose," Abe said. "Even to this day, many Japanese revere Radhabinod Pal."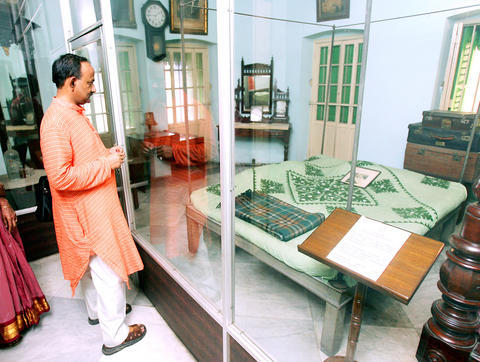 An Indian visitor looks at the bedroom used by Indian nationalist Netagi Subhash Chandra Bose preserved in his home in Kolkata last Friday. Japanese Prime Minister Shinzo Abe yesterday met the descendants of the Indian nationalist who advocated violent resistance to British rule and sided with imperial Japan during World War II.
PHOTO: AFP
Abe, wrapping up a three-day official visit to India, has dismissed suggestions back home that meeting Pal's son would anger other Asian nations resentful over Japan's wartime actions.
In a dissenting opinion, Pal questioned the legitimacy of the tribunal, sealing a friendship between Pal and Abe's grandfather Nobusuke Kishi, who was charged but never tried as a war criminal.
Prashanto Pal, 81, told reporters he was "very, very happy to see" Abe.
"I feel proud of the fact that my father is still remembered for his contribution that was only correct and just. How can you blame only one side for war crimes and not the others?" he said.
Abe was speaking to reporters at the inauguration of the Indo-Japan Cultural Association in Kolkata and went on for talks with West Bengal state's Marxist chief minister Buddhadeb Bhattacharjee.
He was then to tour a museum dedicated to Bose, who broke with India's non-violence leader Mahatma Gandhi and won Japanese support for a military venture against British forces.
After World War II broke out, Bose escaped his British watchers, sought help from Nazi Germany and later went to Tokyo, where he organized an army.
"We're very excited, this is truly a historic moment," Krishna Bose, the nationalist's niece by marriage, said of Abe's visit.
The 76-year-old heads a trust that has preserved a three-storey residence in Kolkata as a museum to Bose.
"This is the first such visit and this makes it very special for us," she said. "It is a recognition of the role Bengal has played in building modern India-Japan relations."
Her brother-in-law Subrata, Bose's nephew, said the family was "deeply grateful" to Abe for this "unparalleled gesture."
The museum's walls are lined with black-and-white photos of Bose's parents, of him as a young boy, his May 1942 meeting with Adolf Hitler in Berlin and a picture of his German wife, Emilie Schenkl, holding their baby girl.
Other pictures capture his 90-day journey from Germany to Japan aboard a submarine between February and May 1943.
Another is allegedly the last known picture of Bose, in which he is seen stepping off a plane in Saigon on Aug. 17, 1945, a day before his widely disputed death in an aircrash in Taipei.
The exhibits include coats, caps and footwear as well as furniture and scores of books owned by Bose until he fled Kolkata in 1941.
"If Japan remembers Bose's support, we Indians have to remember that it was Japan which helped Bose assemble the Indian National Army" to fight British colonial rule, Krishna said. "Our future relations can be and will be enhanced when we remember the past that we share."
Abe's stop in Kolkata came at the end of a high-profile visit during which India and Japan vowed to seal an economic partnership deal by December.
Comments will be moderated. Keep comments relevant to the article. Remarks containing abusive and obscene language, personal attacks of any kind or promotion will be removed and the user banned. Final decision will be at the discretion of the Taipei Times.