Patil becomes India's first female president
Pratibha Patil was elected India's new president yesterday, the first woman to hold the office.
The 72-year-old lawyer cruised to a landslide win over incumbent 84-year-old Vice President Bhairon Singh Shekhawat for the largely ceremonial post.
"I ... hereby declare that Mrs Pratibha Devisingh Patil has been duly elected to the office of president of India," election returning officer P.D.T. Achary said.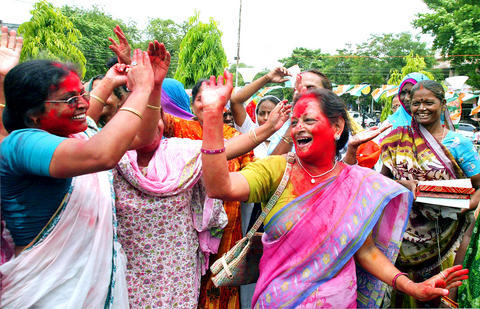 Congress party activists, faces smeared with colored powder, celebrate in Allahabad, India, on Friday, as it became clear India's ruling party candidate Pratibha Patil would become the country's first female president.
PHOTO: AP
Patil, a native of western Maharashtra state, defeated Shekhawat by a large margin, securing 66 percent of the votes cast by an electoral college of federal and state lawmakers, Achary said.
Parliamentary Affairs Minister P.R. Dasmunsi described Patil's win as "massive ... massive ... massive."
A stream of well-wishers thronged Patil's residence in New Delhi and people were dancing in the streets in her home town of Jalgaon.
Sonia Gandhi, the president of the ruling Congress party, plucked Patil from relative political obscurity, saying her election would boost the cause of gender equality and would be a "historic moment."
But Patil was buffeted by accusations that she protected her brother in a murder probe and shielded her husband in a suicide scandal in a campaign described by analysts as the most vitriolic in India's post-colonial history.
There were also claims of nepotism and involvement in a slew of financial scams.
Patil, a demure figure who dresses conservatively in a sari pulled over her hair, has denied any wrongdoing.
Patil was also mocked after she told television audiences that a deceased spiritual guru had given her a "divine premonition of greater responsibility."
India's top news magazine, India Today, put her on its front cover with the headline: "Embarrassing Choice."
Analysts say Patil has a tough act to follow in the form of India's popular outgoing President Abdul Kalam. Congress rebuffed his bid for a second five-year term because, analysts say, it wanted a party loyalist.
The silver-haired, shaggy-locked missile scientist, who became a national hero after overseeing successful tests in 1998 that turned India into a nuclear power, was dubbed "the people's president."
Under the Constitution, the prime minister holds the executive reins but the president plays a role in forming governments at state and federal levels, making the post hotly contested.
Comments will be moderated. Keep comments relevant to the article. Remarks containing abusive and obscene language, personal attacks of any kind or promotion will be removed and the user banned. Final decision will be at the discretion of the Taipei Times.