Opium production hits new high: UN
Efforts to slash opium production in Asia are having mixed results, with cultivation up massively in Afghanistan but almost wiped out in the Golden Triangle region, a UN report said.
The report, released in Vienna on Monday by the UN Office on Drugs and Crime (UNODC), said efforts to eradicate the world's drug problems are paying off as cultivation, production and abuse appear to have stabilized on a global level.
The 2007 World Drug Report pointed to the Golden Triangle, once one of the largest sources for heroin, as an example of success, saying the Southeast Asian region is now "almost opium free" as a result of crackdowns on poppy farming.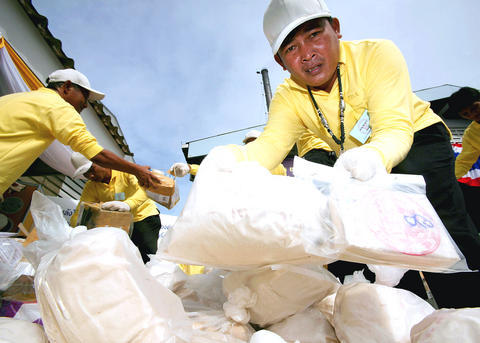 A Thai official shows a pack of seized heroin in Ayutthaya Province yesterday ahead of a mass burning of confiscated drugs. Almost 3 tonnes of drugs were incinerated to mark the UN day against drug abuse and trafficking. Similar ceremonies were held in Myanmar, Pakistan and several other countries.
PHOTO: AFP
But opium production worldwide reached a record 6,610 tonnes last year, up 43 percent from 2005, because of a spike in supply from Afghanistan, the report warned.
"The production and consumption of cannabis, cocaine, amphetamines and ecstasy have stabilized at the global level -- with one exception," the report said.
"The exception is the continuing expansion of opium production in Afghanistan," it said.
Production in Afghanistan, responsible for 92 percent of the world's opium, increased by almost 50 percent last year despite internationally backed efforts to eradicate its poppy fields.
"For no other drug is production so concentrated in a single area," the report said. "This expansion continues to pose a threat to the security of the country and to the global containment of opiates abuse."
Illicit cultivation in Helmand Province matched that of entire countries, UNODC chief Antonio Maria Costa said in the report.
Income from the industry in Afghanistan tops US$3 billion annually, officials said, and helps finance the Taliban-led insurgency plaguing the country.
"Effective surgery on Helmand's drug and insurgency cancer will rid the world of the most dangerous source of its most dangerous narcotic and go a long way to bringing security to the region," Costa said.
Comments will be moderated. Keep comments relevant to the article. Remarks containing abusive and obscene language, personal attacks of any kind or promotion will be removed and the user banned. Final decision will be at the discretion of the Taipei Times.