California fires continue advance
FIERY MARCH The blaze has charred more than 1,700 hectares of the island resort of Santa Catalina, forcing the evacuation of 3,800 people, residents and tourists alike
The second major Southern California brushfire last week continued to burn on Friday on the resort island of Santa Catalina. But Avalon, the island's major town, appeared to have been spared and some of the thousands of people who had been evacuated began returning from the mainland.
The fire, whose cause remains undetermined, broke out on Thursday afternoon and for a time threatened Avalon, which has a population of about 3,300.
But hundreds of firefighters, aided by dampening air, wind shifts, and a swarm of helicopters and planes dropping water and fire retardant, beat back the blaze, which by late on Friday afternoon was confined to the tinder-dry mountains of the island, about 35km off the coast.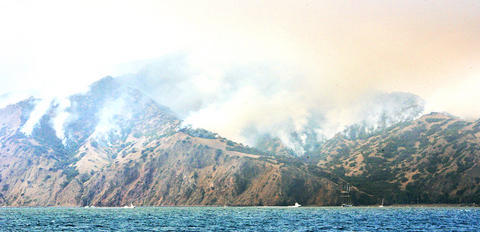 Smoke and flame cover a wide area as a wildfire that has consumed thousands of hectares continues to burn near Avalon on Santa Catalina Island off the coast of Southern California on Friday.
PHOTO: AP
In all, about 3,800 people, including tourists, were evacuated overnight from Catalina and brought here to Long Beach aboard ferries.
About 140 people spent Thursday night at an evacuation post at a high school in Long Beach.
The blaze charred more than 1,700 hectares of the narrow, 196.8km2 island whose vast, hilly parkland, abundant wildlife, and winding, cobblestone roads dotted with colorful bungalows make it a favorite getaway for Angelenos.
A herd of bison, whose forebears were brought over decades ago for a movie shoot, and four newly hatched eaglets were reported safe.
Only one house and a handful of small structures were burned. No serious injuries were reported.
Ferries carried people off the island while military hovercraft had to be used to take dozens of fire trucks and other apparatus to the island. In all, more than 700 firefighters, 44 fire engines, nine helicopters, and five airplanes from state, federal, and local agencies fought the blaze.
Many of the evacuees were workers originally from Jalisco, Mexico. Representatives from the Mexican Consulate in Los Angeles arrived in Long Beach to assist them.
"When we got on the boat, we were in a panic because we could feel the heat in the air," said Elsa Contreras, 33, who evacuated with her husband and their seven children, one of whom was vomiting from the smoke.
"It was very stressful, getting all the children," Contreras said. "I didn't want to leave separately without my husband and children."
Rogelio Hernandez, 33, with his wife and two-year-old son, said the police had given residents of his apartment building five minutes to evacuate as flames encroached on Thursday.
"We didn't think it was going to get this bad," Hernandez said.
The fire was a testament to just how dry the region is, having received only two inches of rain since January.
Catalina has experienced wildfires before, including one that burned Avalon in 1915, but its offshore location with cool, damp winds tends to keep fires in check.
Once again, officials urged residents to take precautions such as clearing brush away from homes.
Comments will be moderated. Keep comments relevant to the article. Remarks containing abusive and obscene language, personal attacks of any kind or promotion will be removed and the user banned. Final decision will be at the discretion of the Taipei Times.