Confucianism reemerges in China after long oppression
The ancient teachings of Confucius, centering on peace and social harmony, are finding a new resonance amid the chaos and rapid development of modern China.
Once suppressed by Maoist China, the Confucian revival is being welcomed by the communist government as a calming influence amid growing public dissatisfaction over a host of issues.
"The teachings of Confucius are the first thing we begin teaching the children," said Feng Zhe, director of the Confucian School, which opened six months ago. "Each child should recite the Confucian texts 1,000 times until their spirit is imprinted completely. This is a graduation requirement."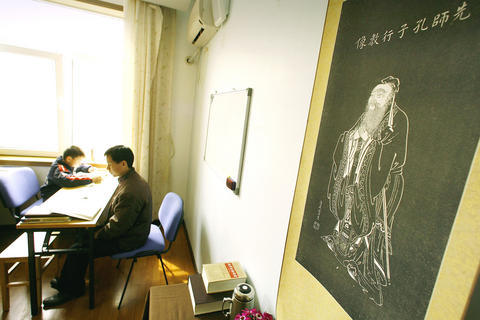 A picture of Confucius hangs on the wall at the Beijing Sihai Classic's Culture Communication Center, a Confucius school in the suburbs of Beijing, on April 2.
PHOTO: AFP
China's education ministry gave permission for the school to open in a villa in the Beijing suburbs, and Feng sees it as the tip of a future iceberg.
So far 46 students below the age of 14 have enrolled in the school which is based on learning through recitation.
"The concept of scientific development and the idea of a harmonious society advocated by the government today comes from ancient Chinese culture," Feng said with a smile from behind his round scholarly glasses. "We hope that our students will become China's cultural ambassadors in the world."
Feng predicts that there will be more than 10,000 similar schools throughout China within the next 10 years as the nation wakes up to its heritage.
The school hopes to combine the best of traditional China with the great classics of the world and is aiming to train "human beings who know their own culture as well as the advanced culture of the West," said Tao Ye, another school official.
In 1973, revolutionary leader Mao Zedong (毛澤東) kicked off a campaign to "criticize Lin Biao (林彪) and Confucius," which targeted Mao's former right-hand man who was accused of an attempted coup, and Confucian teachings which he blamed for the backwardness and subservience of Chinese society.
Thirty years later, the Chinese Communist Party is embracing Confucius in official slogans.
In the "eight vices and eight virtues" of President Hu Jintao (胡錦濤) issued last year, Chinese are told to love their motherland, serve the people and work hard -- all typical Confucian notions.
Far from discouraging this return to Confucianism the government is promoting it amid growing public dissatisfaction with rampant corruption and unbridled development, evident in more than 87,000 public protests recorded in 2005.
For young students, learning the 2,500-year-old teachings of Confucius, advocating subservience to authority through filial piety, is key to becoming a better person.
"If we study at a regular school and learn Chinese and math, that is useful but not as useful as this," said Liu Zhenran, a 10-year-old. "Here we learn to be a good person thanks to Confucius. This is more useful for us in the future."
Although the school is mainly geared for a privileged class capable of paying an annual tuition of 30,000 yuan (US$3,900), Confucian studies have also reemerged in society thanks to television and books.
One of China's bestsellers in the past months is Confucius, As I See Him, the paperback version of a televised lecture series by Yu Dan (於丹), a professor at Beijing Normal University.
Confucius, she says, would disapprove of disorderly behavior the government is trying to stamp out.
Comments will be moderated. Keep comments relevant to the article. Remarks containing abusive and obscene language, personal attacks of any kind or promotion will be removed and the user banned. Final decision will be at the discretion of the Taipei Times.